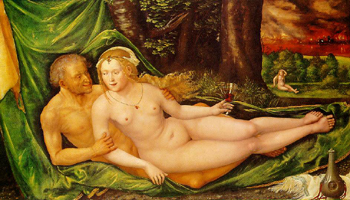 | | |
| --- | --- |
| Artist: | Albrecht Altdorfer |
| Created: | 1537 |
| Dimensions (cm): | 189.0 x 107.5 |
| Format: | Oil on limewood |
| Location: | Kunsthistorisches Museum, Vienna |
Loth and his Daughters
Artist Albrecht Altdorfer, renowned for his landscape paintings, eventually became a well-established Mannerist. His unique style of art is especially recognizable in his famous oil painting 'Loth and his Daughters' created in approximately 1537, the year before his death. The artwork strongly suggests an incestuous relationship between father and daughter. It raised much controversy among its viewers, and still produces debates today. The artist's meticulous choice of color tones illuminates textures and creates a particular lighting that promotes the aura of an Italian renaissance theme.
The painting displays three nude figures: Loth, the father, stretched out beside his unclothed daughter, and Loth's other daughter sitting and watching at the far right background. The one daughter, resting on her father's leg and pressed against his body, holds a glass of wine and indicates a contented facial expression, while Loth shows a feeling of happiness as he holds her arms to keep her in place. She dons a dainty headdress and a dazzling red ruby necklace, judged to be a gift from her father in his attempts to impress her. The other daughter, painted remarkably small against a dark and foreboding red sky, displays an expression of either sadness or jealousy toward her sister. The flowing green drapery on which they repose is a powerful contrast against the paleness of their skin.
Analysis
Nicolas Pioch wrote of Altdorfer's changes in style: "In his later works Altdorfer moved towards Mannerism. Two years after The Battle of Alexander at Issus, a radical change in style occurred." Pioch continued to explore this in 'Loth and his Daughters', "His last works, partially kept frescoes in Regensburg's bath house, and Loth and his Daughters reveal these changes. The human body, unlike the weird depictions of the first decade, now conforms to the Italian model and dominates the picture with frank colors.
'Loth and his Daughters' by Albrecht Altdorfer is currently located in the Kunsthistorisches Museum, Vienna.

Home | Art Prints | Art Movements | Famous Artists | Articles