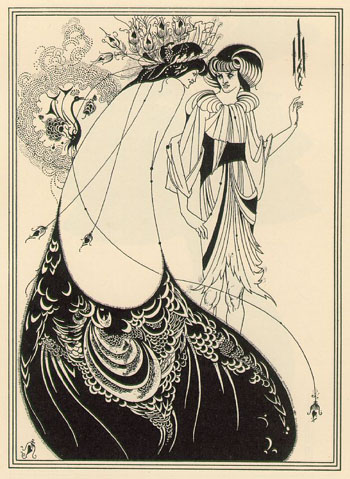 | | |
| --- | --- |
| Artist: | Aubrey Beardsley |
| Created: | 1893 |
| Format: | Pen and ink illustration |
| Location: | Collection of Dr. Michael Richard Barclay |
'The Peacock Skirt', one of Aubrey Beardsley's best known illustrations, was inspired by one of the works of James McNeill Whistler (1834-1903) entitled, 'The Princess from the Land of Porcelain'. This painting hung in the Peacock Room (dining room in the home of wealthy English ship owner Frederick R. Leyland), right above the fireplace amongst a decorative collection of Chinese porcelain. Whistler was said to have been very resentful upon viewing the illustration, regarding it as a blatant copy of his work.
Inspired by the decorative art of the Nouveau Age, 'The Peacock Skirt' was created for the French version of Oscar Wilde's scandalous one-act play 'Salomé' (1893). The original English version 'Salome' (1891) was banned because the law forbade the depiction of Biblical characters onstage.
The black and white distinctive lines and patterns of 'The Peacock Skirt' were representative of the bold and graphic style made popular by Japanese artists such as Utamaro and Kokuyei from the late 18th and 19th centuries. In the illustration, the young and beautiful Salome, daughter of Herod and Herodias, uses her beauty to persuade the Syrian Captain of the guard to release his prisoner John the Baptist. As legend has it, when John the Baptist denies her affections, she uses her influence to have him executed.
Wilde became infuriated when the critics took more notice of the illustrations than they did the play. In a jealous effort to discredit the artist, he was quoted by writer Ian Fletcher as saying: "I admire, I do not like Aubrey's illustrations. They are too Japanese, while my play is Byzantine".
The play inspired Lord Alfred Douglas to translate the play into a book published by Elkin Mathews and John Lane (London, 1894). The book featured 28 of Beardsley's sensual and erotic illustrations, and won the artist both widespread notoriety and controversial reviews. Although most of the comments were encouraging, The Times regarded the artist's work as "unintelligible for the most part and, repulsive". Aubrey Beardsley responded to the criticism of his work by eloquently saying, "I have one aim - the grotesque. If I am not grotesque I am nothing." 'The Peacock Skirt' remains one of the artist's most popular illustrations of his career.
Home | Art Prints | Art Movements | Famous Artists | Articles