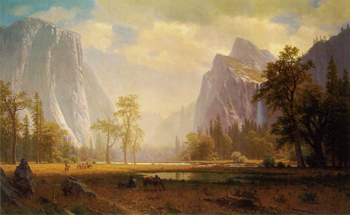 | | |
| --- | --- |
| Artist: | Albert Bierstadt |
| Created: | 1863-1875 |
| Dimensions (cm): | 148.6 x 91.4 |
| Format: | Oil on canvas |
| Location: | The Haggin Museum, Stockton, USA |
Looking Up the Yosemite Valley
During the summer of 1863, Albert Bierstadt spent some time visiting Yosemite National Park, where he produced a number of breathtaking paintings of the area's scenic natural landscape, including 'Looking Up the Yosemite Valley', which depicts the western side of the vale.
Bierstadt used clever painting techniques to establish the strong contrast that would create a distinct perception of 'Looking Up the Yosemite Valley'. In the foreground, a horse and a figure are portrayed near small rocks, a small pond and sparse foliage. The artist purposefully chose to set these shapes in miniature form and in shadow against a brightly-lit yellow and white background of majestic mountains and verdant trees. As a result, the contrast not only emphasizes the enormity and splendour of the landscape, but also amplifies the viewers' awesome perception of the Yosemite Valley.
The figure beside the horse appears to be an artist, perhaps sketching his first outlines of the beautiful scene before him. One has to wonder if the artist is none other than Albert Bierstadt himself.
About the Artist
Albert Bierstadt, a German-born American painter, is famously known for his scenic paintings of the American West. He was a member of the Hudson River School, but his work also shows the influence and skill acquired from the Dusseldorf School of Painting in Germany.
His passion for painting drove him to pay a substitute to take his place in the American Civil War in 1863. During this time, he created a few paintings based on his brief but memorable experiences with certain soldiers stationed at Camp Cameron.
Many of Bierstadt's paintings met positive reception but, in the later years, provoked much controversy regarding the imaginative and romanticized portrayals of his landscapes. The negative response was lulled when John K. Howat, editor of American Paradise: The World of the Hudson River School, once stated: "The temptation (to criticize him) should be steadfastly resisted. Bierstadt's theatrical art, fervent sociability, international outlook, and unquenchable personal energy reflected the epic expansion in every facet of western civilization during the second half of the nineteenth century."
Albert Bierstadt completed over 500 paintings during his career, but many were destroyed when a fire broke out in his studio in 1882. 'Looking Up the Yosemite Valley' is currently located at the Haggin Museum, in Stockton, USA.

Home | Art Prints | Art Movements | Famous Artists | Articles