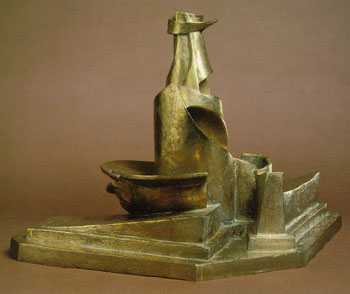 | | |
| --- | --- |
| Artist: | Umberto Boccioni |
| Created: | 1913 |
| Dimensions (cm): | 61.0 x 38.1 |
| Format: | Bronze |
| Location: | Museum of Modern Art, New York, USA |
Futurist artist Umberto Boccioni created the bronze sculpture, 'Development of a Bottle in Space' (1913) from a drawing published in his book "Technical Manifesto of Futurist Sculpture" (1912). The artist explains his intention to "open the figure like a window and include in it the milieu in which it lives." He also stated his desire to "proclaim the absolute and complete abolition of finite lines and the contained statue."
This 20th century sculpture depicts movement, speed, and technology (Futurist movement). The 'Development of a Bottle in Space', cast in silvery bronze, was stripped open and sculpted, a process that involved breaking a bottle into winding sections and combining relative and absolute motion to give it a rotary appearance.
Donald Kuspit, Professor of Art and Philosophy, Ph.D., University of Michigan, theorizes that the sculpture's rhythmic movement suggests a more sexual connotation that is "inherent rather than imposed." He compares this sculpture to Duchamp's 'Nude Descending the Staircase, No. 2' (1912) which symbolizes masturbation.
Marjorie Perloff, author of 'The Futurist Moment' (1986), describes the sculpture as bearing a series of bottle-shaped shells, hollowed out and fitted inside each other. She refers to its base as a "concave shape with a simple unbroken profile", a description that supports the implied theory of a center within the object. Umberto Boccioni explained his vision for the piece in the preface of the catalogue for the First Exhibition of Futurist Sculpture in Paris (1913) by stressing the need for "fusion of the environment with the object" in order to "make the figure live in its environment without making it a slave to a supporting base."
Rosalind Krauss, author of 'Passages in Modern Sculpture' (1981), describes the sculpture as a "symbol of invariance." Krauss comments that "The sculpture dramatizes a conflict between the poverty of information contained in the single view of the object and the totality of the vision that is basic to any serious claim to 'know' it."
'Development of a Bottle in Space', once exhibited at the Panama-Pacific International Exposition in San Francisco (1915), has since become part of a collection at the Museum of Modern Art in New York.
Home | Art Prints | Art Movements | Famous Artists | Articles