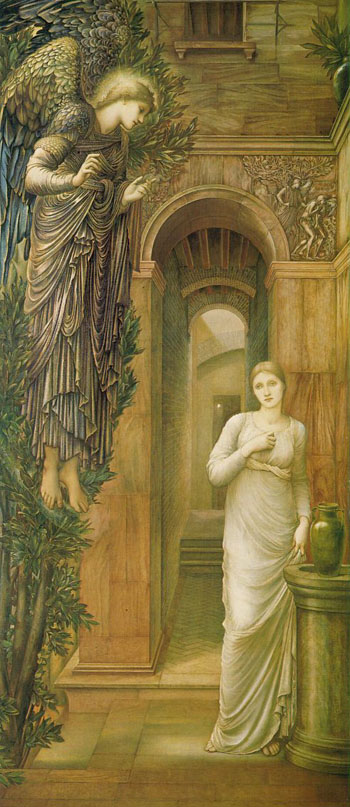 | | |
| --- | --- |
| Artist: | Sir Edward Burne-Jones |
| Created: | 1879 |
| Dimensions (cm): | 104.0 x 250.0 |
| Format: | Oil on canvas |
| Location: | Lady Lever Art Gallery, Merseyside, England |
The Annunciation
In the 'Annunciation', Edward Burne-Jones depicts the Virgin Mary standing in awe of the angel Gabriel. Inspired by the Renaissance Italian masters, Burne-Jones chose a vertical and narrow canvas much like the stain glass art he became known for. Sombre colors with illuminating effects evoke a poetic and spiritual feel. The artist's exquisite attention to detail effectively draws the viewer's eye to the textures of the stone and archway along with the folds in the draperies.
Edward Burne-Jones, British Pre-Raphaelite artist of the 19th century, was deeply passionate about the writings of author, poet, and artist John Ruskin, whose influence can be felt in the 'Annunciation'. While color is not the obvious focus for this piece, the artist sought to define presentation by creating a strong linear composition that draws the viewer's attention to Gabriel, the angel who hovers above the archway.
History
Original sketches for the 'Annunciation' (1872) along with the final work itself were first exhibited at the Grosvenor Gallery (1879), the property of Lord Carlisle. Julia Cartwright (1851-1924), art critic and historian of Italian renaissance, reviewed the 'Annunciation' in an article entitled Edward Burne-Jones: A Record and a Review for the Art Journal (1893). She declared the piece as "one of the few religious paintings of modern times which can be placed side by side with the paintings of the Old Italian Masters. It belongs to the same order, and springs from the same source."
Cartwright describes the sketches in their initial stages, which were first designed in chalk and pencil, then modified, and thereafter painted in watercolor. Once further studies were made, the artist's creation began. Months would elapse during the drying phase, as the layers of paint were built up before the piece was finally completed. Cartwright stated, "This favourite story of mediaeval Christendom, the chosen theme alike of poet and painter, which we see pictured above so many altars, and carved in stone on so many tombs, has never been handled with finer or more reverent feeling."
The Annunciation, originally owned by George Howard, 9th Earl of Carlisle, a patron and friend of the painter, now resides at the Lady Lever Art Gallery in Merseyside, England.
Home | Art Prints | Art Movements | Famous Artists | Articles