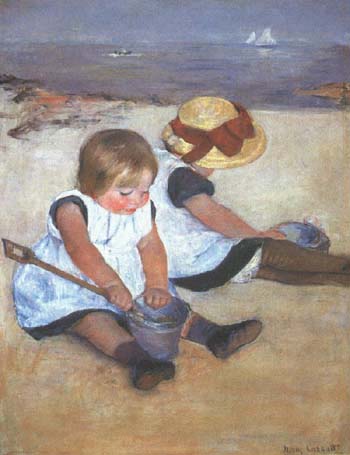 | | |
| --- | --- |
| Artist: | Mary Cassatt |
| Created: | 1884 |
| Dimensions (cm): | 74.2 x 97.6 |
| Format: | Oil on canvas |
| Location: | National Gallery of Art, Washington DC, USA |
Children on the Beach
Created by artist Mary Cassatt at the end of the nineteenth century, 'Children on the Beach' was part of an Impressionist collection of works that portrayed the lives of women and children. Noted for her soft pleasing palette, natural simplistic forms and flat composition, Cassatt captured children relaxed and at play, unaware of the viewer's gaze. This painting, one of the last created in this loose style with solid areas of color, is typical of the artist's style in the 1880's, after which she began to more boldly define her subjects. The artist's inscription can be viewed on the lower right side of the painting.
Mary Cassatt's interest in structure and surface patterning is clearly defined in this painting, emphasized by repeated accents of dark dresses under white pinafores. Great attention is given to the brushstrokes which make up the contours of the children's forms. Her approach to background is a little more unconstrained as the boats dissolve into the horizon.
Quotes and Exhibitions
At Degas' invitation, Mary Cassatt was the only American artist to exhibit with the French Impressionists at the last Impressionist exhibition. In response to this invitation, she said to her biographer Achille Ségard: "I accepted with joy. At last, I could work with absolute independence without considering the opinion of a jury. I had already recognized who were my true masters. I admired Manet, Courbet, and Degas. I hated conventional art."
In a review of the exhibition, Gustave Geffroy (1855-1926), French critic and writer on art, literature and politics, commented on 'Children on the Beach' by saying "[It] has the sharp outline that things and people have on the sand with the background of water and sky. The short arms and the dollish faces let you guess the flesh under a thick layer of suntan." He believed that Mary Cassatt's blend of impressionist influences, as well as her study of Japanese prints, promoted the equal significance of background and foreground.
Art critic Helen A. Harrison stated in the article 'Female Artists, Then and Now' (December 7, 2003) "it is her pastels that best demonstrate her sensitive touch, her gift for simplification without sacrificing likeness, and her feeling for the play of natural light on surfaces and textures." In another New York Times art review 'Childless but Fascinated by Intimate Family Life' (December 1, 2000), Ken Johnson regarded her work as "fiercely precise and intelligent", and remarked that it "acquired an undeserved reputation for saccharine softness."
'Children on the Beach' is part of the Ailsa Mellon Bruce Collection at the National Gallery of Art, Washington DC, U.S.A.
Home | Art Prints | Art Movements | Famous Artists | Articles