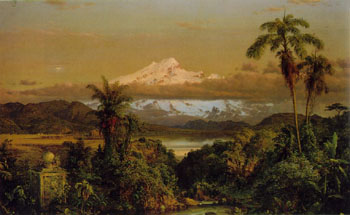 | | |
| --- | --- |
| Artist: | Frederic Edwin Church |
| Created: | 1858 |
| Dimensions (cm): | 121.9 x 76.2 |
| Format: | Oil on canvas |
| Location: | The New York Historical Society, New York, USA |
Cayambe
'Cayambe' was painted by renowned artist Frederic Church in 1858. As a prized pupil of Thomas Cole, and a central figure in the Hudson River School, Church became a master in landscape painting. Are you curious as to why this painting was entitled 'Cayambe'?
Frederic Church travelled to many exotic places for inspiration, including Europe, Africa, Greece, as well as North and South America. He found this lush and peaceful setting in Ecuador, where a volcano named 'Cayambe' rests on the line of the equator. In view of Cayambe's magnificence, he chose to make it the central focus of his painting, making this composition a powerful testament to the passion he held for South America.
'Cayambe's peak is painted with brushstrokes of white, grey, and shades of brown, giving it extraordinary texture. The centre of the painting is a beautiful example of Frederic Church's ability to harness perfection in capturing light and reflection. The still body of water, surrounded by lush foliage and exotic trees, brings tranquility to the scene as it reflects the heavy clouds at the horizon and mirrors 'Cayambe' on its surface. There appears to be a path leading to the lake, a clearing that conveys such depth perception that onlookers may feel coaxed to enter the landscape. In the background, the moon is rising as the sun sets. Of particular interest in the foreground is a carved stone pillar, an object of intrigue that offers a sense of history, and triggers curiosity in the viewer.
Historical Facts
'Cayambe' was commissioned by the New York City refiner, Robert L. Stuart. An exhibition entitled "Frederic Edwin Church", which included 'Cayambe', was held at the National Gallery of Art in Washington DC from October 1989 to March 1990. The art piece is currently located at The New York Historical Society in New York, USA.

Home | Art Prints | Art Movements | Famous Artists | Articles