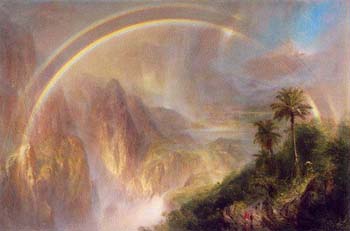 | | |
| --- | --- |
| Artist: | Frederic Edwin Church |
| Created: | 1866 |
| Dimensions (cm): | 213.8 x 142.9 |
| Format: | Oil on canvas |
| Location: | The Fine Arts Museums of San Francisco, San Francisco, USA |
Rainy Season in the Tropics
Frederic Church, master of 19th century Romantic American landscape painting, created 'Rainy Season in the Tropics' during a time of rebirth in his personal life. After diphtheria claimed the lives of both his son and daughter in March of 1865, Frederic Church was given a second chance at having a family upon the birth of his namesake in 1866. While some believe 'Rainy Season in the Tropics' is representative of the artists personal triumphs, some scholars believe the artist's portrayal of a rainbow that bridges the Ecuadorian Andes and Jamaican tropical forest was meant to signify reunification after the American Civil War.
Following in the footsteps of German naturalist and explorer Alexander von Humboldt, whose goal in life was to understand how the earth's natural systems were intertwined, Frederic Church succeeds in portraying the mysteries of the natural world.
Like other panoramic landscapes of epic proportions created from his New York studio, 'Rainy season in the Tropics' was composed from sketches and photos taken during the artist's travels to South America, and from illustrated books contained in his library. Palm trees to the left and mountains on the right draw the viewer's eyes into the misty valley below, while a rainbow stretches across the sky to connect the landscapes.
American Sublime Exhibition: Landscape Painting in the United States (2002)
'Rainy Season in the Tropics' was one of the revelatory, epic landscapes painted in nineteenth-century America featured in the 'American Sublime' exhibition at The Minneapolis Institute of Arts (22 September–17 November 2002).
Janet L. Whitmore, Ph.D. Adjunct Assistant Professor, College of Architecture and Landscape Architecture of University of Minnesota, commented on the dramatic presentation meant to duplicate the original exhibition. She remarked that "The solitary wall panel swagged in burgundy velvet drapery enshrined the 'Great Picture'." Whitmore believed this method of display was an attempt at "educating contemporary viewers about the nature of the mid-nineteenth-century art market in the United States". She further suggests that Frederic Church was attempting to portray the natural world as a reflection of the divine, derived through his "meticulous display of flora and fauna combined with a remarkable mastery of panoramic spaces". Her analysis described how the painting "transports the viewer to a sunlit, rainbow-laden paradise, an expression of hope in post-war America."
'Rainy Season in the Tropics' is currently part of the Mildred Anna Williams Collection at The Fine Arts Museums of San Francisco, U.S.A.
Home | Art Prints | Art Movements | Famous Artists | Articles