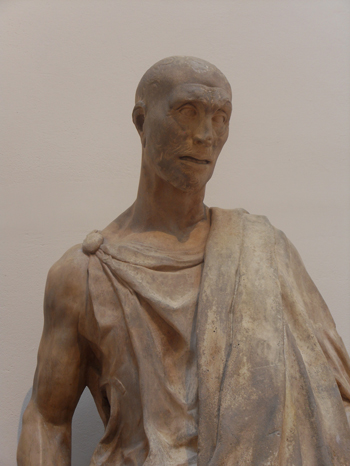 | | |
| --- | --- |
| Artist: | Donatello |
| Created: | 1423-26 |
| Format: | Marble |
| Location: | Museo dell'Opera del Duomo, Florence, Italy |
The Prophet Habakkuk (Zuccone)
Donatello created 'The Prophet Habakkuk' upon commission by the Florence Cathedral for its bell tower. It is also commonly known as Zuccone, or Lo Zuccone; which translates from Italian to "pumpkin" (figuratively, bald-head or pumpkin head). Habakkuk is a historical and religious figure, though very little is known of him other than a few facts found within a Hebrew bible titled the "Book of Habakkuk".
Donatello's rendition of this character is that of a thin man, draped in what resembles a toga. 'The Prophet Habakkuk' is somewhat similar, in stance and expression, to the artist's other sculpture titled 'The Prophet Jeremiah', both so very impressive in character. Habakkuk's whole persona, but most specifically the inclination of his head, bears the manner of a humble man. His right hand clutches onto his robes, as well as a rolled scroll, while the left hand points downward. His gaunt facial expression is perhaps most telling of all. The eyes are sad and vacant; nevertheless, they impart a subtle message, and acknowledge the viewer. The figure's bony bald head and slightly gaping mouth are reminders of Donatello's love of human nature, be it graceful or awkward.
'The Prophet Habakkuk" is reported to have been Donatello's preferred piece. In matters of uncertainty, he would swear by the sculpture, stating "By the faith I place in my Zuccone"!

About the Artist
Donatello, or Donato di Niccolò di Betto Bardi, was a sculptor during the early renaissance period. He created many famous works of art in Florence, Italy, where he was born, and is widely considered to be the original patriarch of early renaissance sculpting, superior to many other artists in various mediums such as bronze, marble, terracotta, and wood. His influence on countless artists of his time is compelling, and his works continue to inspire artists worldwide today. 'The Prophet Habakkuk' embodies Donatello's unique vision of realism and naturalism, as he is known to have rebelled against the traditional art scholar's conventions.
'The Prophet Habakkuk' or 'Zuccone' is currently located at the Museo dell'Opera del Duomo in Florence, Italy.

Home | Art Prints | Art Movements | Famous Artists | Articles