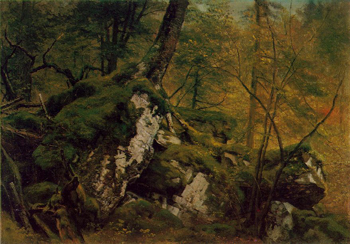 | | |
| --- | --- |
| Artist: | Asher Durand |
| Created: | 1850 |
| Dimensions (cm): | 61.0 x 42.5 |
| Format: | Oil on canvas |
| Location: | Addison Gallery of American Art, Andover, Massachusetts, USA |
Study of a Wood Interior
"The external appearance of this our dwelling place, apart from its wondrous structure and functions that minister to our well-being, is fraught with lessons of high and holy meaning, only surpassed by the light of Revelation." – Asher B. Durand
Artist Asher Durand, who is famous for his many contributions to the "Hudson River School", created 'Study of a Wood Interior' in 1850 with oil on canvas. The painting is a personal reflection of one of the many journeys that Durand travelled over his career.
The composition's focus centers on the roots of a mature tree emerging out of the ground, amid moss-covered rocks and earth. The background is opaque with green, brown, yellow, and red hues that offer the feeling of a crisp autumn morning. Undoubtedly, onlookers can envision the exhaled breath against the cool air of anyone hiking in the spectacular surroundings. The forest's deadwood on the left side of the canvas is a symbol of Durand's melancholy in the years leading up to the Civil War. The tiny glimpse of sky at the top of the painting lures the viewer deeper into the scene, an ideal way for curious admirers to better examine the majestic, uprooted tree. Renowned for his meticulous attention to detail, Durand created a "natural" masterpiece in 'Study of a Wood Interior'.
Review
With regard to Asher Durand's works of art in the exhibition entitled, "The World of Asher B. Durand: The Artist in Antebellum New York," Dr. Linda Ferber, Vice President and Museum Director, stated that "Asher B. Durand was one of the most important American artists of the 19th century. He was a central figure as an artist, as a founder of art institutions, and as the dean of the American landscape school. His long career began with the earliest efforts of the American artists, writers, and patrons also included here to construct a national cultural identity during the decades before the Civil War."
'Study of a Wood Interior' by Asher Durand is currently located at the Addison Gallery of American Art in Andover, Massachusetts, U.S.A.

Home | Art Prints | Art Movements | Famous Artists | Articles