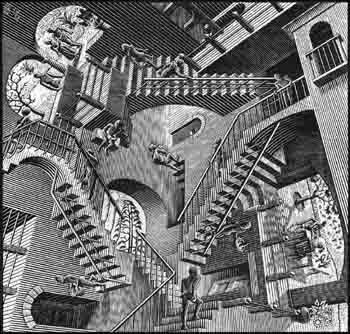 | | |
| --- | --- |
| Artist: | M.C Escher |
| Created: | 1953 |
| Dimensions (cm): | 29.4 x 28.2 |
| Format: | Woodcut |
| Location: | Gemeentemuseum, Hague, The Netherlands |
Relativity
"I am always wandering around in enigmas. There are young people who constantly come to tell me: you, too, are making Op Art. I haven't the slightest idea what that is, Op Art. I've been doing this work for thirty years now." – M.C. Escher
M.C. Escher created 'Relativity' in 1953 in the form of woodcut. Known for his precision in geometric art forms, Escher demonstrated the extent of his mathematical skill when he produced this enigmatic art piece.
The work is a composition of confusing staircases and people placed at odd angles, going about their business. The staircases are possibly a reflection of various plains of existence, with figures going up and down the steps in both vertical and horizontal positions. At the top of the woodcut, two people share the same staircase, but do not seem to acknowledge each other, as though they are wearing blinders and can only perceive the world through their personal windows. Some critics and artists have felt that 'Relativity' is a depiction of the many different points of view that human beings share. While M.C. Escher was not trained in mathematics, his natural talent for perception, precision, and meticulously-defined dimensions has been attracting mathematicians and scientists for decades.
Reflections
"Escher wrote about his prints dating from after 1936 that they were created 'with a view to communicating a specific line of thought. The ideas that are basic to them often bear witness to my amazement and wonder at the laws of nature which operate in the world around us. He who wonders discovers that this is in itself a wonder. By keenly confronting the enigmas that surround us, and by considering and analyzing the observations that I had made, I ended up in the domain of mathematics. Although I am absolutely without training or knowledge in the exact sciences, I often seem to have more in common with mathematicians than with my fellow-artists.'" – Taken from "M.C. Escher, His Life and Complete Graphic Work"
'Relativity' is currently located at the Gemeentemuseum in The Hague, Netherlands.

Home | Art Prints | Art Movements | Famous Artists | Articles