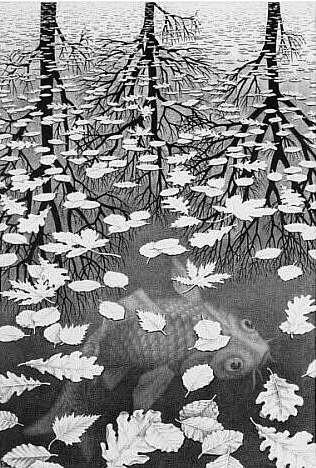 | | |
| --- | --- |
| Artist: | M.C Escher |
| Created: | 1955 |
| Dimensions (cm): | 24.7 x 36.2 |
| Format: | Lithograph |
| Location: | Cornelius Van S. Roosevelt Collection |
Three Worlds
"I try in my prints to testify that we live in a beautiful and orderly world, not in a chaos without norms, even though that is how it sometimes appears." - M.C. Escher
The fascinating lithograph titled 'Three Worlds' was created by renowned graphic artist M.C. Escher and was first printed in December of 1955. True to his word, Escher successfully produced a unique display of connected and organized imagery that does indeed provide evidence of exceptional beauty on our planet.
Did M.C. Escher choose to name his work 'Three Worlds' in reference to the three similar trees in the picture? Or did he mean to represent three different entities: water, plant and animal? Perhaps his intention was to let the viewers reach their own conclusions.
The somewhat surreal and dream-like image depicts an unending pool of water, which upholds leaves fallen from the reflected naked trees and houses one large fish beneath its surface. Escher cleverly made all three natural elements distinctively visible and intertwined one with the other in his typical orderly fashion. The artist's use of significant lighting on the floating leaves helps to separate them from the surface of the water, all the while amplifying depth perception.
'Three Worlds' is thought-provoking and engages the viewer to ultimately analyze the various aspects of its composition.
About the Artist
M.C. Escher (born Maurits Cornelis Escher), recently coined "The Mathemagician", was known as one of the world's most famed graphic artists. Over his career, he created approximately 448 woodcuts, wood engravings, lithographs, as well as over 2000 drawings and sketches. His unique and interesting use of angles and lighting, as in 'Three Worlds', have intrigued and inspired creativity the world over. Escher was also a celebrated illustrator, tapestry designer, postage stamp artist, and mural artist.
Exhibitions (History from the National Gallery of Art)
• 1974 – "M.C. Escher", National Gallery of Art, Washington, DC.
• 1995 – "M.C. Escher: Landscape to Mindscape", National Gallery of Canada, Ottawa. (p. 24, no. 27)
'Three Worlds' is part of the Cornelius Van S. Roosevelt Collection; it is not currently on view.

Home | Art Prints | Art Movements | Famous Artists | Articles