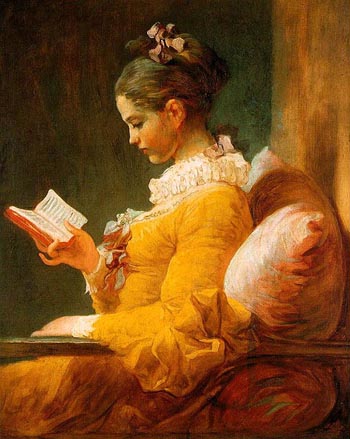 | | |
| --- | --- |
| Artist: | Jean-Honore Fragonard |
| Created: | 1770-72 |
| Dimensions (cm): | 65.0 x 82.0 |
| Format: | Oil on canvas |
| Location: | National Gallery of Art, Washington DC, USA |
The Reader
Between 1770 and 1772, artist Jean-Honore Fragonard painted 'The Reader', also known as 'Young Girl Reading'. Its simplistic setting, natural hues and contours are typically neoclassical. The subject of the painting is a young girl who is completely absorbed in the book she is holding in her right hand. She is sitting in a comfortable chair with a pillow at her back. Her left hand rests on the arm of the chair, and the excess material of her dress is trapped under her elbow. The soft, subdued background color offers a significant contrast with the girl's illuminated profile, suggesting that she is sitting in front of a window. Although the scene dictates a sense of peacefulness, the girl's bright lemon yellow dress with the crisp, pure-white cuffs and collar steals the tranquility of the moment. The painting's long, meticulous brush strokes, the well-defined texture of the materials, and the genial contrast in lighting render 'The Reader' a masterpiece.
Analysis and Review
"The sweetness of A Young Girl Reading, its almost Renoirish charm, should not blind us to its strength and solidity. There is a geometrical framework to the softness of the adolescent reader: a strong, vertical swathe of yellow brown wall, and the gleaming horizontal bar of the armrest. It is this ability to transcend decoration that distinguishes Fragonard." – Sister Wendy Beckett (Sister Wendy's Story of Painting)
Jean-Honore Fragonard painted over 550 paintings, not including drawings or sketchings, over the entire course of his career, but unfortunately only five of them are actually dated. 'The Reader' is currently located at the National Gallery of Art in Washington, D.C.
Home | Art Prints | Art Movements | Famous Artists | Articles