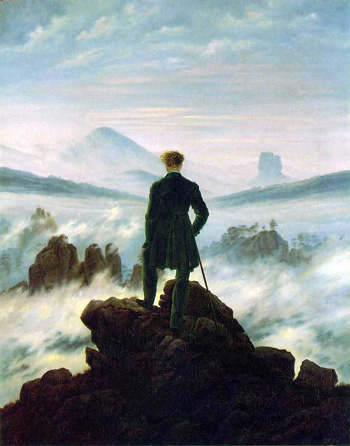 | | |
| --- | --- |
| Artist: | Caspar David Friedrich |
| Created: | 1818 |
| Dimensions (cm): | 74.8 x 94.8 |
| Format: | Oil on canvas |
| Location: | Kunsthalle, Hamburg |
'Wanderer Above the Sea of Fog', also known as 'Wanderer Above the Mist', is an oil painting created by German artist, Caspar David Friedrich in 1818. The painting depicts a man wearing a frock coat with walking stick in hand (Friedrich himself), standing on a cliff that overlooks the magnificent mountains in the distance. A heavy fog or mist lingers heavily before him, revealing the closer mountain peaks. The sky uses a significant portion of the canvas. Its slight glowing hue implies that the day is either just beginning, or about to end. The painting entices the viewer to peak over the edge of the cliff in order to see what lies hidden. Caspar David Freidrich was a master in his ability to transform a landscape into a personal and spiritual chronicle, a difficult task for many painters. Many artists from the Romantic era, including Friedrich, believed that in order to achieve pure self-expression, spiritual and emotionally-expressive heights in their work, they had to step away from the business side of the art world, leaving the money-making and political aspects aside.
Freidrich was fascinated with nature and solitude. Later in his career, he combined this passionate interest with his belief in self-expression to create unique paintings that displayed breathtaking scenery and possessed an ambience of repose and serenity, the likes of which can be found in 'Wanderer Above the Sea of Fog'.
Analysis and Reviews
David d'Angers once said of Caspar David Friedrich, "Here is a man who has discovered the tragedy of landscape."
"Stripped to an essence, Friedrich's paintings are hypnotic and memorable, evoking powerful longing, as though deep memories, dreams, and yearnings have been revived and ache to be fulfilled." - artinthepicture.com.
'Wanderer Above the Sea of Fog' is currently located in Kunsthalle, Hamburg.
Home | Art Prints | Art Movements | Famous Artists | Articles