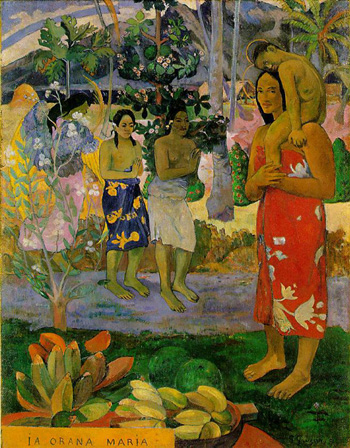 | | |
| --- | --- |
| Artist: | Paul Gauguin |
| Created: | 1891 |
| Dimensions (cm): | 87.7 x 113.7 |
| Format: | Oil on canvas |
| Location: | Metropolitan Museum of Art, New York, USA |
In 1891, well-known artist Paul Gauguin created 'We Hail Thee Mary', whose original name is 'La Orana Maria'. The picturesque oil painting depicts a woman carrying her son on her shoulders, while two other women, with an angel at their side, bow to her in respect. This was Gauguin's first painting upon arriving in Tahiti; he remained there until 1893. The shapes and contours are intentionally primal, and the colourful foliage and flowers add an essence of natural living. These vivid colors that blend together and compliment each other are typical of the South Pacific's traditional art style. Gauguin cleverly added a Christian message to the painting's theme: the annunciation – when angel Gabrielle told the Virgin Mary that she would bear the Christ Child. The message conveyed in 'We Hail Thee Mary' seems to be one of unified hope. The painting was well received in Paris, most likely because it was interpreted as a depiction of occultists being converted into Christianity. It could also have been because they thought Gauguin had captured an image of a sacrilegious ritual.
A Quote
Paul Gauguin's views on painting exude his passion for this art form: "Painting is the most beautiful of all arts. In it, all sensations are condensed; contemplating it, everyone can create a story at the will of his imagination and-with a single glance-have his soul invaded by the most profound recollections; no effort of memory, everything is summed up in one instant. -A complete art which sums up all the others and completes them."
'We Hail Thee Mary' by artist Paul Gauguin is currently located at the Metropolitan Museum of Art in New York, U.S.A.
Home | Art Prints | Art Movements | Famous Artists | Articles