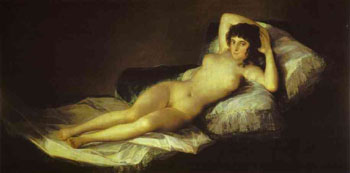 | | |
| --- | --- |
| Artist: | Francisco de Goya |
| Created: | 1800 |
| Dimensions (cm): | 190.0 x 97.0 |
| Format: | Oil on canvas |
| Location: | Museo del Prado, Madrid, Spain |
'The Nude Maja', or 'La Maja Desnuda' in its original language, is an oil on canvas created by Francisco De Goya in 1800. The painting depicts an unclothed woman reclined on a bed of pillows, staring directly into the viewer's eyes. Francisco De Goya also created 'La Maja Vestida' (The Clothed Maja), a duplicate of 'The Nude Maja', for the exception that the woman is fully dressed.
Who is the model?
There have been many inquiries as to who the model was and why Francisco De Goya chose to display this controversial painting during the Spanish Inquisition; both questions remain unanswered. Some speculate that the nude woman is the mistress of Manuel De Godoy, Duke of Alcudia, who the painting was first recorded to have belonged to. Another theory is that the model was Pilar Teresa Cayetana, Duchess of Alba, who it was said was at times romantically involved with De Goya. Others believe that the model is a combination of many women, De Goya's imagined ideal woman.
Analytical Review
"Goya was inclined towards painting on dark and mysterious backgrounds, while nature was his source for endless variety of shapes. His portrayal of the gaiety of the Madrid's majas life has been held in high regard, both for the dexterity and picturesque quality of the productions. The provocative look on the maja's face continues to mesmerize people to date. The drama created due to the stark black background in contrast to the white foreground adds a touch of mysteriousness as well as captivate, almost as if the woman will come to life any minute." (oilpaintingreproductions.com)
Where is it?
'The Nude Maja' was displayed in the Academy of Fine Arts in San Fernando from 1808 to 1813. The painting was sequestered by the Spanish Inquisition for 23 years due to its controversial image, and in 1836 it was returned to the Academy. In 1901, the painting was sent to the Museo del Prado in Madrid, Spain, where it remains today.
Home | Art Prints | Art Movements | Famous Artists | Articles