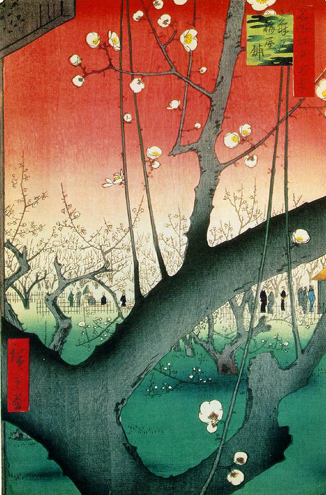 | | |
| --- | --- |
| Artist: | Utagawa (Ando) Hiroshige |
| Created: | 1857 |
| Dimensions (cm): | 21.9 x 33.7 |
| Format: | Woodblock print |
| Location: | The Brooklyn Museum |
Plum Estate, Kameido
One of the most famed series of Japanese art is undeniably the "One Hundred Famous Views of Edo" created by Andō Hiroshige. 'Plum Estate, Kameido' is listed as number 30 in this series consisting of 118 woodblock prints. The work was initiated by Utagawa (Andō) Hiroshige but, upon his death in 1858, his student and adopted son Suzuki Chinpei, who took on the artist name of Hiroshige II, completed the series of artworks.
Analysis
The focal point in 'Plum Estate, Kameido' is flagrant; the oddly shaped branches of one plum tree in the foreground immediately grab the viewer's attention. Less obvious, but equally significant, are the tree's celebrated pure white blossoms, which produce a powerful contrast against the fiery-red sky. It was believed that the tree's flowers kept evil spirits away and therefore, the trees were purposely planted in the direction of evil sources, which supposedly dwelled in the north-east area of a garden.
The orchard's other blossoming trees located in the middle ground seem dream-like, their branches somewhat translucent against a yellow-pinkish horizon that brings beautiful light to the picture and imparts the notion of dawn. The far background shows a gathering of people who appear to be going about their daily business. The minute size of the figures creates an important distance between the concept of busy activity and the solitude and tranquility of the plum tree orchard.
Andō Hiroshige – The Artist
Utagawa Hiroshige was born Andō Hiroshige, in Edo, Japan, in 1979 (the city now known as Tokyo). Following his father's footsteps, he first became a firefighter for the local shogunate. Later, Hiroshige discovered his talent in drawing and began to study at the Ukiyo-e Master Utagawa Toyohiro's studio. It was here that Toyohiro gave Andō Hiroshige the name Utagawa. Over the course of his career, Hiroshige created more than 5,400 prints. He eventually retired as a Buddhist Monk. Not long after the release of "One Hundred Famous Views of Edo", Hiroshige died of cholera – a raging epidemic at the time. The series was the last of his work as an artist.
'Plum Estate, Kameido' is currently located at the Brooklyn Museum, Brooklyn, NY. It is not currently on view.

Home | Art Prints | Art Movements | Famous Artists | Articles