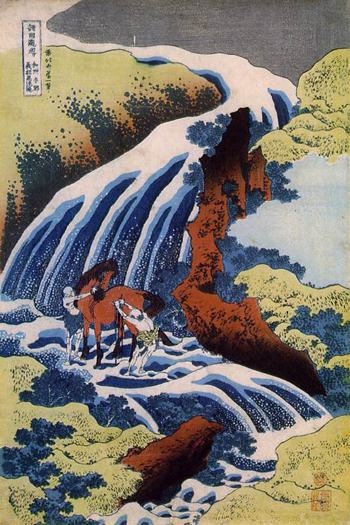 | | |
| --- | --- |
| Artist: | Katsushika Hokusai |
| Created: | 1832 |
| Dimensions (cm): | 26.4 x 38.2 |
| Format: | Color woodblock print |
The Waterfall where Yoshitsune Washed his Horse, Yoshino, Yamato Province
For his series titled "A Tour of Japanese Waterfalls", Katsushika Hokusai created 'The Waterfall where Yoshitsune Washed his Horse, Yoshino, Yamato Province', a scene based on a well-known Japanese tale. This woodblock print is a touching display of the relationship between man, animal and nature.
The background consists of a magnificent waterfall flowing powerfully through a deep valley of trees and foliage, its assumed roar almost palpable for the viewer. The two tiers of water resemble giant hands embracing the earth with fingers spread open. Although the two small figures washing the majestic horse are positioned in the foreground, Hokusai cleverly succeeded in making the waterfall the focal point of the image through his use of thick, bold brushstrokes of white against the blue water. The specks of white perfectly typify the bubbles and agitated foam of a natural waterfall.
Legend of the Waterfall
According to a common Japanese legend, the warrior General Minamoto no Yoshitsune washed his steed at this location while trying to hide from the enemy in the highlands surrounding the waterfall. Since Hokusai based his woodblock print 'The Waterfall where Yoshitsune Washed his Horse, Yoshino, Yamato Province', on this renowned tale, one wonders why he chose to portray two peasant-like men instead of a mighty warrior.
About the Artist
While Katsushika Hokusai's fame declined in his later years as young and skillful Japanese artists such as Ando Hiroshige emerged onto the scene, he was nevertheless the most popular artist during the 1820's when he was at the height of his career. His most celebrated series was "Thirty-Six Views of Mount Fuji" which sky-rocketed him to artistic fame and paved the path for his well-liked collection "A Tour of Japanese Waterfalls".
Born in the Katsushika district of Edo, Japan (now known as Tokyo) Hokusai's exact date of birth is unknown but believed to be on the 23rd day of the 9th month of the 10th year of the Hōreki era (old calendar) which would be October 31st, 1760.

Home | Art Prints | Art Movements | Famous Artists | Articles