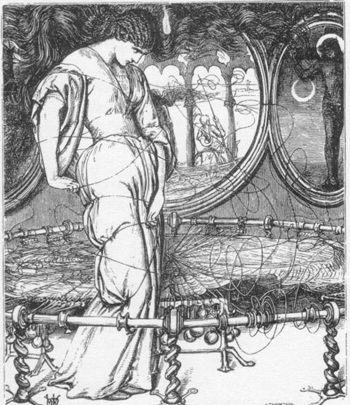 | | |
| --- | --- |
| Artist: | William Holman Hunt |
| Created: | 1857 |
| Dimensions (cm): | 9.1 x 10.7 |
| Format: | Wood Engraving |
| Location: | Engraving for Moxon edition of Tennyson |
The Lady of Shalott
William Holman Hunt created 'The Lady of Shalott' for Tennyson's poetry book in 1857. The wood engraving is meant to illustrate the section of the poem that reads:
"Out flew the web and floated wide; the mirror cracked from side to side;
"The curse is come upon me," cried The Lady of Shalott."
The wood engraving displays a beautiful young woman, her head bent in resignation, tangled up in the threads of the tapestry she was weaving - a fitting symbol of her state of entrapment. She allowed the curse to consume her when she gazed out the forbidden window to the world in order to lay eyes upon Sir Lancelot. Behind her, in the cracked mirror, is a reflection of her beloved Lancelot riding through the fields towards Camelot. It is also symbolic that the lady's uplifted long hair, having been disarrayed by a powerful, intruding wind, has disturbed the nearby doves, just as this misfortune has disturbed her peaceful life. The lady of Shalott looks crestfallen, conquered by the curse her foolish curiosity has brought upon her.
Tennyson first opposed the art work as he felt that the illustration did not entirely correspond to his poem. William Holman Hunt later painted a larger oil version in 1886, which was to be his last painting before his death in 1910.
A word about the artist…
"Holman Hunt had a limited degree of success in his lifetime, he never became an influential artist as he so desperately wanted; and never had any followers despite having a long working life. In his lifetime he became best known as a religious painter and made a very comfortable living from his religious works, which still contained the Pre-Raphaelite's elaborate symbolism. For his early works he took a lot of unfair criticism, so much so that he seriously considered emigrating abroad, but he was tough and strong-minded enough to carry on working in the style he wanted. In 1852 he applied for associate membership of the R.A. but was turned down. Proud man that he was, he never applied again." – Sandra Forty (The Pre-Raphaelites)
'The Lady of Shalott' by William Holman Hunt was created for the Moxon edition of Tennyson.

Home | Art Prints | Art Movements | Famous Artists | Articles