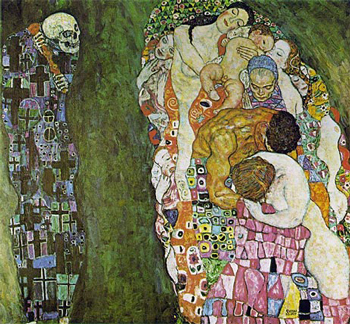 | | |
| --- | --- |
| Artist: | Gustav Klimt |
| Created: | 1916 |
| Dimensions (cm): | 198.0 x 178.0 |
| Format: | Oil on canvas |
| Location: | Leopold Museum, Vienna, Austria |
Death and Life
Austrian symbolist and "Art Nouveau" painter, Gustav Klimt, created 'Death and Life' in 1910 and finally completed it in 1916. The initial reaction to this painting is usually a feeling of morbidity and, for some, it is fear. However, upon further analysis, the emotion often changes to that of victory and empowerment.
Depiction of the Painting
On the left, a frightening Grim Reaper towers over a gathering of seemingly peaceful and innocent people positioned on the opposite of the canvas. He holds his traditional scythe and with a menacing, evil grin, appears to be measuring the "life" they possess. The intertwined group of individuals range in years from babyhood and youth to adulthood and old age – signifying the entire cycle of life.
The group is either ignoring the Reaper or unaware of his presence as they focus on each other and experience comfort and happiness due to their close bond. As onlookers, we can surmise that the endurance of this harmonious and spiritual collective implies that while "death" takes numerous lives, the life force of humanity prevails.
Modified Version
Although Klimt had received first prize at the 1911 International Art Exhibition in Rome for 'Death and Life', he apparently still felt unsatisfied with the finished work as in 1915 he began to re-work the original painting, which was already framed. Klimt reportedly changed the original golden background to a grey toned setting, and painted additional decorative ornaments to both "Death" as well as "Life". Through in-depth examination of the art work, it was discovered that, at the left edge of the frame, one can still detect traces of the original painting.
About the Artist
Dominating the art world in Vienna from the early 1900's, Gustav Klimt was perhaps most famed for his controversial artworks, which were occasionally considered overly embellished and often erotic in nature (his drawings comprised considerable focus on female sexuality). The sensual aspect of his work triggered a significant amount of scandal over the course of his career; it classified him as a nonconformist - a rebel against the traditional academic art style of the time. Now, Klimt is deemed one of the most important artists to emerge in the history of Vienna.
'Death and Life' by Gustav Klimt is currently located at the Leopold Museum in Vienna, Austria.

Home | Art Prints | Art Movements | Famous Artists | Articles