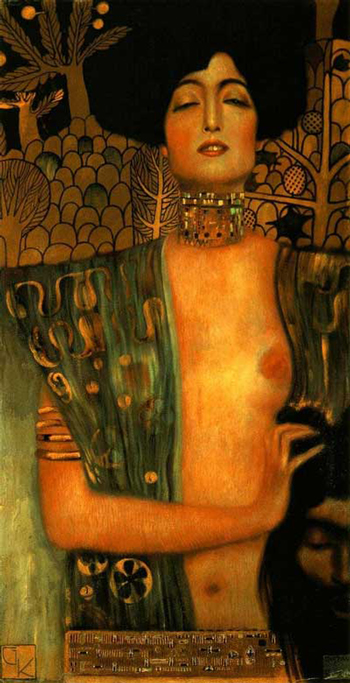 | | |
| --- | --- |
| Artist: | Gustav Klimt |
| Created: | 1901 |
| Dimensions (cm): | 133.0 x 153.0 |
| Format: | Oil on canvas |
| Location: | Osterreichische Galerie, Vienna, Austria |
Judith I
"All art is erotic" – Gustav Klimt
Notorious for his unique, and often times controversial artistic interpretations, Gustav Klimt created 'Judith I' in 1901, with no exceptions regarding his approach to art – eroticism reigns in this magnificent piece.
The painting's female subject is presented as a seductress whose facial expression is one of triumph. Judith's plump, slightly parted red lips suggest pleasure and sensuality, while her half closed, come-hither eyes confront the viewer with brazen confidence and defiance. Her sheer, green robe is open, revealing one breast and barely covering the other – definitely intensifying the erotic aspect of the art work. Her navel is brazenly visible. The abundance of jet black hair produces a significant contrast against the golden background and emphasizes her female sophistication and prowess. At the far bottom right of the canvas, Judith holds the head of Holofernes, the man she ordered executed in order to save the city of Bethulia.
The Tragic Tale
The story of Judith beheading Holofernes focuses on a beautiful widow named Judith, who is upset with her countrymen for not having sufficient faith in God - for not believing that He will free them of the Assyrians. Taking it upon herself to act on their behalf, she embarks on a holy mission. Judith uses her feminine wiles to gain access to the tent of their enemy General Holofernes. Charming as ever, she wins his trust. As he lay in a drunken state, she decapitates him and takes his head back to her countrymen. Having lost their leader, the enemy flees and Israel is liberated.
Klimt's Style
Typically, artists have chosen to paint Judith using a narrative approach; however, Klimt purposely ignored this line of attack by painting only half the severed head and placing it at the very edge of the canvas. Klimt opted to set the focus on Judith instead, depicting her as a "femme fatale" which is a common portrayal of many of his female representations.
Many critics confused this sensual version of 'Judith I' with the seductress "Salome", a misinterpretation that prompted Klimt to request that his brother Georg build a metal frame for the painting, engraved with the title "Judith and Holofernes".
A Little about the Artist
Gustav Klimt was most famed for his highly decorative art pieces, many of which were often classified as eroticism. His sensual portrayals prompted ample controversy over the course of his career, branding him as a rebel against the customary academic art style of the time. Today, deemed as one of the most important artists to emerge in the history of Vienna, his paintings have fetched some of the highest prices recorded for individual works of art.
'Judith I' is currently located at the Osterreichische Galerie, in Vienna, Austria.

Home | Art Prints | Art Movements | Famous Artists | Articles