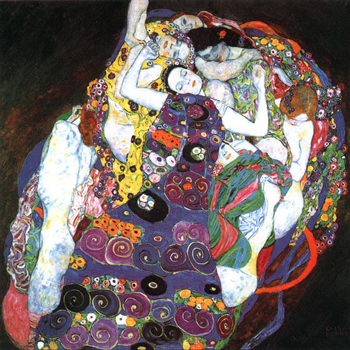 | | |
| --- | --- |
| Artist: | Gustav Klimt |
| Created: | 1913 |
| Dimensions (cm): | 200.0 x 120.0 |
| Format: | Oil on canvas |
| Location: | The National Gallery of Prague, Czech Republic |
Virgin
Considered one of the most memorable of Gustav Klimt's paintings, 'Virgin' is not only beautiful in its visual fulfilment but also rich in symbolism. It is a perfect example of Klimt's classic use of decorative features and intense color, as well as his inclusion of ornamentals embedded in allegories which, in this case, are directed at fertility and transformation.
Description and Analysis
The painting's young female subject lies outstretched on her back, seemingly asleep, with arms extended above her head and legs parted beneath a long, colourful gown that matches and merges with the surrounding hues and patterns. Even though her body is covered from head to toe, she nevertheless radiates a delicate intrigue and alluring sensuality, typical of Klimt's portrayal of women.
In this oval-shaped scene, the focal figure is surrounded by six females, all nudes, but for the occasional sheets, scarves, and flowers that randomly fall upon them. The addition of other women and, in particular, their positioning, suggests that they are elements of a dream, perhaps representative of the erotic fantasies of a sleeping virgin. The many spirals adorning the woman's clothing signify life cycles, fertility, and intuition.
About the Artist's Work
Gustav Klimt was most celebrated for his exceptionally decorative paintings, many of which were catalogued as eroticism (including 'Virgin') which created significant controversy over the course of his career. Nevertheless, he succeeded in becoming one of the most important artists to emerge out of Vienna. To date, Klimt's paintings have brought some of the highest prices recorded for individual works of art. Here are some facts:
• 2003: "Landhaus am Attersee" sold for $29,128,000.
• 2006: "Adele Bloch-Bauer I" sold for $135 million.
• 2006: Christie's auction house handled the sale of four works by Klimt:
- The portrait of "Adele Bloch-Bauer II" sold for $88 million
- "The Apple Tree I" sold for $33 million
- "Birch Forest" sold for $40.3 million
- "Houses in Unterach on Lake Atter" sold for $31 million.
• 2011: One of the "Attersee" paintings sold for $40.4 million at Sotheby's.
(all sales data taken from Wikipedia)
'Virgin' by Gustav Klimt is currently located at The National Gallery of Prague in the Czech Republic.

Home | Art Prints | Art Movements | Famous Artists | Articles