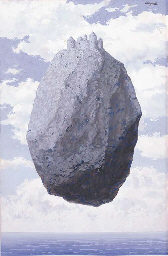 Artist:
Rene Magritte
Created:
1964
Dimensions (cm):
34.5 x 53.5
Format:
Gouache on paper
Location:
Rockefeller Plaza



Le château des Pyrénées
"Castle in the Pyrenees is a romantic 'Gothic' novel which has the charm and the faults of a rather extravagant literary school. You may be disappointed by the book when you read it, but delighted by the atmosphere it conjures up" – René Magritte in a letter dated 27 April 1964 to Harry Torczyner
In 1964, René Magritte painted the final of 3 similar versions of this image titled 'Le château des Pyrénées'. The first installment was created in 1959 and featured the same immense rock with the small castle atop of it. The sea beneath was depicted stormy and violent, generating a disturbing atmosphere. In 1962, the artist produced the second piece which was a replica of the first, but on a much smaller scale. The third was slightly different from the original as Magritte chose to create a peaceful scene, one that would perhaps impart a soothing effect on viewers. Although the rock and castle remain the same, the sea below is no longer tempestuous but calm and reassuring.
Although the final version of 'Le château des Pyrénées' possesses a certain aura of serenity, it also evokes a sense of loneliness. Some may find that the surreal enormity of the rock hanging above the water suggests isolation, while others may prefer to believe that the small and inaccessible castle implies wishful withdrawal from the world.
René Magritte – The Artist
René Magritte was exceptional at conjuring intense emotion from his viewers. His art fell under the Surrealism genre. His uniqueness lay in his ability to take everyday common objects and alter their reality, as ultimately revealed in 'Le château des Pyrénées'.
Magritte would cleverly challenge the viewer's sense of truth with a myriad of unrelated objects in bizarre and curious juxtapositions. He was most joyful when he was able to leave people questioning the signification of his art work, when most often his goal was simply to fascinate. He once described his art work as "visible images which conceal nothing; they evoke mystery and, indeed, when one sees one of my pictures, one asks oneself this simple question, 'What does that mean? It does not mean anything, because mystery means nothing either, it is unknowable."
'Le château des Pyrénées' or 'Castle in the Pyrenees' was recently on auction through Christie's and sold for $776,000 to New York's Rockefeller Plaza.

Click to purchase art prints by Rene Magritte

Home | Art Prints | Art Movements | Famous Artists | Articles