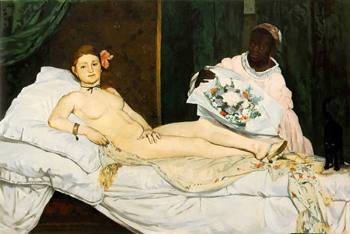 | | |
| --- | --- |
| Artist: | Edouard Manet |
| Created: | 1863 |
| Dimensions (cm): | 190.0 x 130.5 |
| Format: | Oil on canvas |
| Location: | Musee d'Orsay, Paris, France |
Olympia
Conceivably one of Édouard Manet's most controversial and notorious works of art, 'Olympia', which was completed in 1863, is also one of his most famed pieces. The painting demonstrates a full-body female nude stretched out on a bed and a woman servant presenting her with flowers that she ignores, seemingly unimpressed.
There are a number of details in Olympia's attire that signify she is a "demimondaine", a courtesan living a luxuriant and hedonistic lifestyle. The gold bracelet on her wrist, the pearl earrings, and the orchid in her hair are evidence of wealth. She wears a seductive black ribbon around her neck and a slipper that is slightly falling off of her foot, features that enhance her sensuality and that of the painting. In the 1860's, the name "Olympia" was associated with prostitutes in Paris and a black cat, such as the one on the bed, was a traditional symbol of prostitution.
Displayed at the 1865 Salon of Paris, 'Olympia' caused a storm of controversy. The painting was met with scorn, astonishment, hilarity and bewilderment, not because of the nudity but because of the woman's arrogant, confrontational gaze. The contentious look that created so much commotion was deemed to cause the viewer to feel directly involved, as though a client participating in a lewd business transaction with a person of questionable reputation.
The Model
The model that Édouard Manet chose for this painting and for many of his other works was Victorine Meurent, his favourite, and a popular model for many other artists as well. While her fame stems mostly from her connection to Manet, Victorine was an accomplished painter herself, and presented regularly at the Salon of Paris. Manet used her as a model until the early 1870's, when Victorine began taking art classes and was drawn to the more academic styles of art, which Manet was known to oppose. Eventually, they became estranged, most likely due to the difference in their artistic approach.
About the Artist
Édouard Manet was born into a very politically-connected family. Though he developed a keen interest in painting from an early age, his career choice was not enthusiastically met by his parents. At the age of sixteen, his father, Auguste Manet, pressured Édouard to embark on a military training vessel to Rio de Janeiro; however, his son failed the mandatory exam twice. Subsequently, Auguste relented and allowed Édouard to pursue a career in painting.
In 1983, to mark the centennial of his death, many exhibitions were held in celebration of Manet's life and works. In 2013, approximately 80 paintings, drawings and prints were shown at the "Manet. Return to Venice" exhibition, the largest showing of his works ever in Italy.
'Olympia' is currently located at the Musee d'Orsay in Paris, France.

Home | Art Prints | Art Movements | Famous Artists | Articles