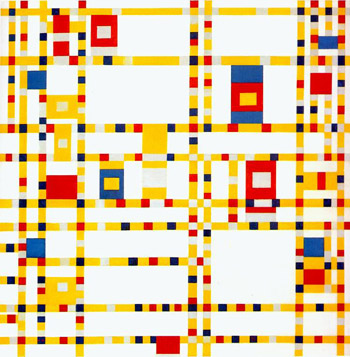 | | |
| --- | --- |
| Artist: | Piet Mondrian |
| Created: | 1942-1943 |
| Dimensions (cm): | 127.0 x 127.0 |
| Format: | Oil on canvas |
| Location: | The Museum of Modern Art, New York, USA |
Broadway Boogie Woogie
In 1942-1943, artist Piet Mondrian created a spectacular oil painting entitled 'Broadway Boogie Woogie' as a tribute to his love and passion for New York City's flashy night life, fantastic music, and never-sleeping streets.
The painting, a display of various geometric lines and bright colors, represents the "Big Apple". Being an avid dancer, a lover of American jazz, and a fan of the Boogie-Woogie dance craze of the early to mid 1940's, Mondrian painted intermittent small blocks of color within the straight lines to convey the melodies, beats, and rhythms of the city's streets. The yellow shapes are representative of N.Y.'s numerous yellow taxi cabs, and the lines are a recreation of the city's grid of streets. The red, blue and yellow rectangles and squares indicate the artist's architectural interest. The avoidance of black is a surprise for Piet Mondrian admirers, as black dominated his previous works. However, the artist did stick to his classic style of horizontal and vertical lines as the basis of his painting.
Analysis and Review
David Sylvester states in his book "About Modern Art: Critical Essays, 1948 to 1997": "A Mondrian abstract is the most compact imaginable pictorial harmony, the most self-sufficient of painted surfaces (besides being as intimate as a Dutch interior). At the same time it stretches far beyond its borders so that it seems a fragment of a larger cosmos or so that, getting a kind of feedback from the space which it rules beyond its boundaries, it acquires a second, illusory, scale by which the distances between points on the canvas seem measurable in miles." Sylvester well-describes the complicated visions involved in a Mondrian work of art.
'Broadway Boogie Woogie' was Piet Mondrian's last painting before his death, and a sincere expression of his fondness for New York City. It is located at the Museum of Modern Art, New York, U.S.A.
Home | Art Prints | Art Movements | Famous Artists | Articles