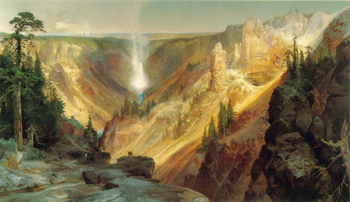 | | |
| --- | --- |
| Artist: | Thomas Moran |
| Created: | 1875 |
| Dimensions (cm): | 163.2 x 208.6 |
| Format: | Oil on canvas |
| Location: | Autry Museum of Western Heritage, Los Angeles |
Grand Canyon of the Yellowstone
It was during his 1871 expedition in Yellowstone Park that Thomas Moran became inspired to paint one of his greatest masterpieces, 'Grand Canyon of the Yellowstone' with oil on canvas. This breathtaking view captures the Lower Falls seen through the yellow-red sulphur stained rock and earth which has given Yellowstone its famous name.
The painting's vantage point is now called "Artist's Point"; it takes in the 308 feet waterfall which is naturally and perfectly framed between the rocky cliffs and hills of the park. Moran created a height perspective in 'Grand Canyon of the Yellowstone' that offers its viewers a remarkable sense of depth and altitude, a feeling that brings forth an illusion of wind and wild scent.
In the painting's foreground, two figures stand on the small cliff overlooking the canyon. Many believe them to be Thomas Moran and landscape photographer William Jackson. Moran was so captivated with this particular site that he delayed leaving it, not quite wanting to move on, sketching every angle, studying the area and the light effects on the rocks. Once settled in Newark, New Jersey, he finished the painting relying on his many drawings, and delving into his memory in order to retrieve the essence of the scene. Moran took only two months to complete the painting and exhibited it at the Clinton Hall in New York City in 1872.
History of 'Grand Canyon of the Yellowstone'
"The Grand Canyon of the Yellowstone became the first American landscape by an American artist ever bought by the American government. It cost $10,000, or about 8o cents per square inch, and it went straight on view in the Capitol, where the effigies of so many flesh-and-blood heroes were to be seen. This, too, was a painting of a hero: the landscape as hero, limbs of rock, belly of water, hair of trees, all done with absorbing virtuosity. It rivaled Church and outdid Bierstadt in offering the panoramic thrill that no watercolor can give, and the density of substance that no photograph could rival. It became a prime symbol of wilderness tourism." - Robert Hughes (American Visions: The Epic History of Art in America)
'Grand Canyon of the Yellowstone' by Thomas Moran is located at the Smithsonian American Art Museum, Renwick Gallery in Washington D.C., USA.

Home | Art Prints | Art Movements | Famous Artists | Articles