Norman Rockwell Art Prints
Norman Rockwell is revered as one of the great American artists of the 20th century. His distinctive style and unique choice of subjects were appreciated in his day as well as decades after his death. By 1916, he had created his first of many Saturday Evening Post covers – three hundred and seventeen in all. By the early 1920s, his work for magazines was growing in popularity and bringing in numerous requests. In 1920, he made a painting for the Boy Scouts of America calendar, a project he supported until just before his death. Today, Norman Rockwell art prints are in high demand.
Life in Arlington
Rockwell lived in Arlington from 1939 to 1953, one of the most important and acclaimed periods in his career. It was an era of rapid post-war growth and significant world change; Norman Rockwell art prints reassured the nation that cherished small-town values would not disappear. During those 14 years, he produced some of his most famous paintings, including, Saying Grace, The Gossips, Christmas Homecoming, Girl at Mirror, the Four Freedoms, Breaking Home Ties, and Rosie the Riveter.
Four Freedoms Series
In 1942, Rockwell painted one his most overtly political and important pieces. In response to a speech given by President Franklin Roosevelt, the artist created a series entitled the Four Freedoms. Throughout the mid-1940s, these paintings traveled around the country in an effort to help raise funds for the war through the sale of bonds. Viewed by more than a million people, their popularity was considered a representation of the war effort at home. During the late 1940s and 1950s, Rockwell maintained his reputation as one of the most prolific and recognized illustrators in the country.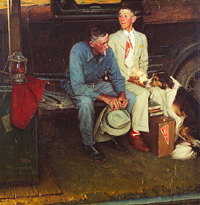 Breaking Home Ties
Rockwell painted Breaking Home Ties for the September 25, 1954 cover of the Saturday Evening Post. It depicts a boy from a ranch in New Mexico who is about to leave home for the first time. His youthful optimism is contrasted with the serious look of his father as they sit on the running board of an old truck. Though the two figures are not looking at each other, the sense of family ties is very powerful in the iconic 1954 picture. It is one of Rockwell's most popular and most often reproduced images, and is considered by Rockwell experts to be one of his masterworks. Breaking Home Ties has been included in a number of national and international exhibitions since 1955. For the first time in decades, the painting was put on view in 2003 at the Norman Rockwell Museum.
Rosie the Riveter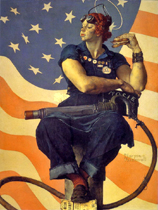 In 1942, a popular song about a patriotic female defense worker called Rosie the Riveter served as the inspiration for a new kind of American woman. Norman Rockwell painted Rosie the Riveter for the May 29, 1943, cover of The Saturday Evening Post. Rosie the Riveter represents the six million women who worked in the manufacturing plants that produced munitions and material during World War II while the men were off fighting the war. The painting was originally meant to represent strong American support for the war. Like the Four Freedoms, Rockwell's Rosie the Riveter was taken on a nationwide tour to promote the sale of war bonds during the World War II to help raise funds to support the war effort.
Norman Rockwell art prints have become American cultural icons. They represent simplicity embedded with complex meanings and metaphors. Rockwell was a visionary, an artist well-ahead of his time. He redefined art with his unique techniques, and managed to maintain traditional American values while being innovative.
---
Donovan Gauvreau
Art Historian, Donovan Gauvreau lectures about art therapy with a focus on creativity development. He believes we can learn from the great masters in art to communicate ideas and feelings through painting. He provides content for www.AaronArtPrints.org to educate and inspire people to take a glimpse into an artist's life to better understand the meaning behind their work.
Home | Art Prints | Art Movements | Famous Artists | Articles