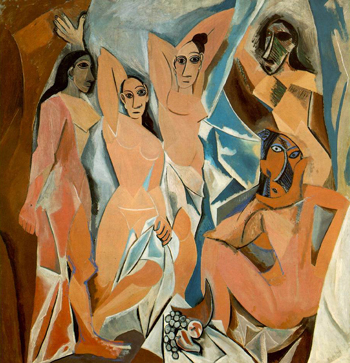 | | |
| --- | --- |
| Artist: | Pablo Picasso |
| Created: | 1907 |
| Dimensions (cm): | 233.7 x 243.9 |
| Format: | Oil on canvas |
| Location: | Museum of Modern Art, New York, USA |
This groundbreaking work represents a major milestone in the history of modern art. Picasso's controversial and powerful painting broke all traditional 19th century concepts of ideal beauty and ushered in the new artistic movement of cubism.
During the period in which Les Demoiselles d'Avignon was painted, Picasso was preoccupied with nudes. In 19th century art, prostitutes played a significant role as they were regarded as subversive and disruptive to the social and sexual status quo. Picasso's awareness of this theme must be remembered when examining this work. His stormy relationship with Fernande Olivier also surely influenced the piece.
Les Demoiselles d'Avignon is an explicit brothel scene which portrays five prostitutes in a compressed space. The work originally portrayed two male figures among the prostitutes, but they were eventually excluded. As a result, the viewer is confronted by the sexually charged nudes who surround the foreground's phallic still life.
Picasso worked on the painting in two phases, and the stylistic contrasts which resulted contribute to the power of the piece. Picasso was the only Western artist of his time to use Iberian art styles in his work. This influence is evident in the painting's two central figures, whose simplified features, wide eyes and large ears bear a direct resemblance to Iberian heads. African art styles had an impact on the creation of the two figures on the right; these nudes are absolutely without precedent in Western art. The inconsistent viewpoints and broken geometric forms used in these figures herald the arrival of cubism.
Les Demoiselles d' Avignon represents a turning point in twentieth century art. While the canvas created controversy and public horror in its time, it began a new artistic movement.
Home | Art Prints | Art Movements | Famous Artists | Articles