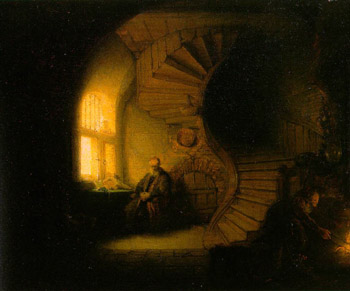 | | |
| --- | --- |
| Artist: | Van Rijn Rembrandt |
| Created: | 1632 |
| Dimensions (cm): | 34.0 x 28.0 |
| Format: | Oil on wood |
| Location: | Musee du Louvre, Paris, France |
Philosopher in Meditation
After moving from his native home of Leyden, artist Van Rijn Rembrandt made his way to Amsterdam where he masterfully created 'Philosopher in Meditation' in the year 1632.
The oil painting depicts a man sitting in shadows near a window; on the far right is another man diligently tending to the fire. The dark border of the image that surrounds the soft golden glow of the room not only emphasizes the philosopher's stillness, but also the complete and utter calmness that emcompasses him. Rembrandt's meticulous perfection is apparent in his unique choice and blend of hues, in the intricate details of the stone frame on the small door behind the philosopher, and in the graceful curve of the stairs.
Some people have deemed "Philosopher in Meditation" to be a powerful representation of the Yin and Yang of ancient Chinese philosophy - Yin meaning darkness, earth, and feminine in nature, and Yang meaning light, heaven, and masculine. Further noted was its similarity with the yin and yang symbol's two swirls of black and white, unquestionably obvious in the scene, whether intentional by Rembrandt or not.
Analysis and Quote
"He (Van Rijn Rembrandt) worked in complex layers, building up a picture from the back to the front with delicate glazes that allowed light actually to permeate his backgrounds and reflect off the white under painting, and generously applied body colors which mimicked the effect of solid bodies in space. Never before had a painter taken such a purely sensuous interest and delight in the physical qualities of his medium, nor granted it a greater measure of independence from the image." – From "Techniques of the Great Masters of Art"
"Philosopher in Meditation" by Van Rijn Rembrandt is currently located at the Musee du Louvre, Paris, France.
Home | Art Prints | Art Movements | Famous Artists | Articles