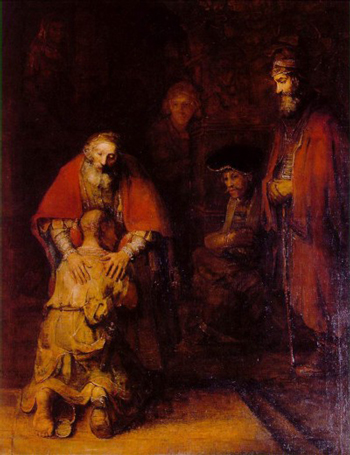 | | |
| --- | --- |
| Artist: | Van Rijn Rembrandt |
| Created: | 1668 |
| Format: | Oil on canvas |
| Location: | The Hermitage, St. Petersburg, Russia |
The Return of the Prodigal Son
In 1668, famous artist Van Rijn Rembrandt painted 'The Return of the Prodigal Son', an oil on canvas that was to be one of his final works of art before his death in 1669. The painting is an emotional depiction of the biblical story of the "Prodigal Son" found in Luke: xv: 11-32. The young son asks his father for the entire portion of his inheritance so that he may leave the family home and build a life for himself; the father agrees. The boy foolishly spends his whole legacy within a short time and returns home poor and ill stricken. He falls into the arms of his compassionate father, who forgives him unconditionally as God forgives all sinners who are penitent.
The entirety of the painting is set against a soft lit, subdued background, which offers a tranquil and spiritual ambience. To bring the central focus on the father and son, the artist placed them under slightly brighter illumination; making them resplendent against the other figures who are downplayed in the darker part of the room. The man in the red cloak, who stands at the right of the canvas, appears in awe of this immense act of gentleness and pardon; he stands with his hands folded and his eyes set upon the scene that humbles him. Van Rijn Rembrandt utilized broad brushstrokes to emphasize the intense sentiments within 'The Return of the Prodigal Son'.
Analysis
In reference to 'The Return of the Prodigal Son', the Web Gallery of Art states that the painting "…goes beyond the works of all other Baroque artists in the evocation of religious mood and human sympathy. The aged artist's power of realism is not diminished, but increased by psychological insight and spiritual awareness. Expressive lighting and colouring and the magic suggestiveness of his technique, together with a selective simplicity of setting, help us to feel the full impact of the event." – Web Gallery of Art
'The Return of the Prodigal Son' by Van Rijn Rembrandt is located at The Hermitage in St. Petersburg, Russia.

Home | Art Prints | Art Movements | Famous Artists | Articles