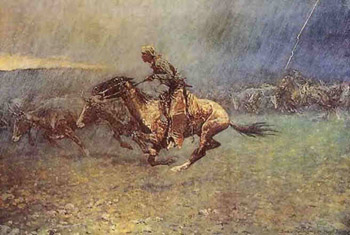 | | |
| --- | --- |
| Artist: | Frederick Remington |
| Created: | 1908 |
| Dimensions (cm): | 101.6 x 68.6 |
| Format: | Oil on canvas |
| Location: | Gilcrease Institute, Tulsa, USA |
The Stampede
Artist Frederic Remington painted 'The Stampede' in 1908 - it was one of the final art works he would create before his death in 1909. Remington was the most successful of the western painters from the late 19th Century through to the early 20th Century.
Also known as 'The Stampede by Lightning', this painting embodies the intense rush of a wild stampede during a rainstorm. The heavy downpour on the rider, the bolt of lightning, and the apparent frenzy of the animals on the bare expanse of land add a particular sense of danger to the scene. The artist's choice of hues promotes an atmosphere of urgency for the rider to reach safety. As one of the first American painters to master the skill of illustrating a galloping horse, it became a regular subject in his art works during most of his career.
A Quote by the Artist
"I knew the wild riders and the vacant land were about to vanish forever. And the more I considered the subject, the bigger the forever loomed. Without knowing how to do it, I began to record some facts around me, and the more I looked the more the panorama unfolded." – Frederic Remington
Analysis and Review
Louis Chapin once stated in "Great Masterpieces by Frederic Remington": "Remington's success in every medium rested on his sure dramatic instincts and on his sense of the scene - the whole lively interest of an event that depended neither on well-known people nor on an allegorical message for its effect, but simply on an emphatic interaction. This gift, which showed vividly in the painting and impressively in the sculpture, was and is important to Remington's credentials as an artist. So also is the strong color emphasis that brought compelling mood into the night scenes of his last decade."
'The Stampede' is currently located at the Gilcrease Institute in Tulsa, USA.
Home | Art Prints | Art Movements | Famous Artists | Articles