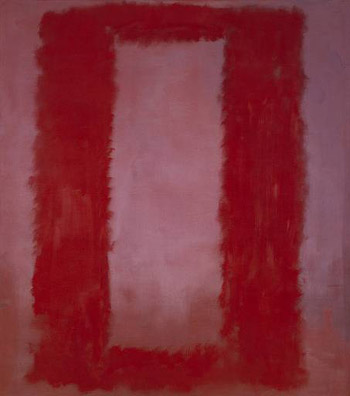 | | |
| --- | --- |
| Artist: | Mark Rothko |
| Created: | 1959 |
| Dimensions (cm): | 239.0 x 266.5 |
| Format: | Oil on canvas |
| Location: | The Tate Modern, London, England |
Red on Maroon
In 1959, Mark Rothko painted 'Red on Maroon' as part of a collection to be displayed in the Four Seasons Restaurant in the Seagram's building in New York. However, the paintings were never displayed as Rothko felt they would not fit the atmosphere of the restaurant, and he withdrew from his commission.
'Red on Maroon' evokes intrigue and wonder from those who view its curious color schemes and dimensions. Rothko's unique brush strokes add depth and texture to the art work, offering a sensory experience of illusion and wonder. The painting's focus is a large red rectangle, overlaying a multi-tonal shade of maroon in the background. The image suggests a doorway or portal, and its colossal size is impressive. The viewer feels an attraction, a desire to step into it and transcend to a higher plain of existence; however, as the spectator moves closer, he/she senses a feeling of closure due to the brush strokes and lighting that seem to create an opaque wall, admitting no one.
Quote by the Artist
"The fact that people break down and cry when confronted with my pictures shows that I can communicate those basic human emotions. The people who weep before my pictures are having the same religious experience I had when painting them. And if you say you are moved only by their color relationships then you miss the point." – Mark Rothko
Review and Analysis
In a review of Mark Rothko's book "Writings on Art", Christopher Andreae states, "Those soft-contoured, light-infused zones of weighty color, sometimes looming toward the viewer, sometimes moving away, offering access yet denying it -- the traits of Mark Rothko's classic paintings are unmistakable. They suggest a deep silence -- the noiseless intensity of paint-resting-on-surface like contained condensation. Perhaps it is this quietness that, until recent years, has persuaded people that Rothko himself had somehow chosen to avoid words and explanations."
'Red on Maroon' by Mark Rothko is currently located at the Tate Modern in London, England.
Home | Art Prints | Art Movements | Famous Artists | Articles