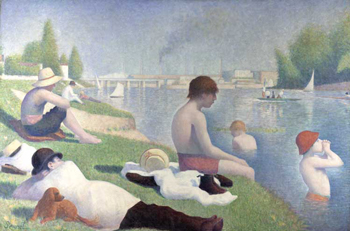 Artist:
Georges Seurat
Created:
1884
Dimensions (cm):
300.0 x 201.0
Format:
Oil on canvas
Location:
National Gallery, London, England



Seurat conceived this painting as an ambitious work that would make his mark in the Paris art world. Though rejected by the Salon of 1884, he exhibited it at the exhibition of the new Groupe des Artistes Indépendants that same year. It was there that Seurat met the nucleus of the future Neo-Impressionist group of which he would later become a part. It was also the first major exhibition of his career. It was indeed a turning point for him, and this is evidenced in the mixed composition of Une baignade, Ansières.
Baignade, true to Seurat's Beaux-Arts background, utilizes many aspects of the classicizing tradition. The scale of the painting is that of a mural, recalling the sprawling works of the famous Renaissance painters. The composition is based on readily-grasped, relatively simple geometries. The bathers are seminude, with clear outlines and postures, echoing the forms of ancient reliefs and Classical sculpture. Indeed, instead of painting people on the location of the landscape, as most Impressionists would have done, Seurat posed models in his studio in order to paint the bathers.
Strong though it may be, the current of the Beaux-Arts does not dominate Baignade; Impressionism is an equally important factor in the painting's construction. Seurat's brushwork, for one, is closer to that of Pissaro's or Renoir's than that of his earlier work--small, loose brush strokes of colors that blend in the eye. The palette of Baignade with its dreamy, light hues is clearly influenced by Impressionism. The choice of subject is also distinctly Impressionist: a natural, inauspicious setting, depicting bourgeois suburban leisure.
Click to purchase art prints by Georges Seurat

Home | Art Prints | Art Movements | Famous Artists | Articles