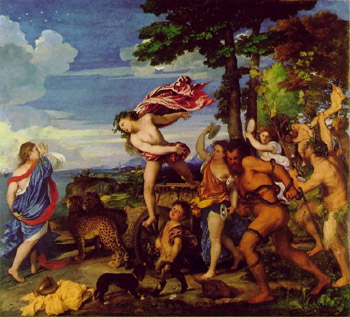 | | |
| --- | --- |
| Artist: | Titian |
| Created: | 1523-24 |
| Dimensions (cm): | 190.0 x 175.0 |
| Format: | Oil on canvas |
| Location: | National Gallery, London, England |
Bacchus and Ariadne
Titian created 'Bacchus and Ariadne' sometime between 1523 and 1524. This Dionysian themed oil painting is an expression of vibrant color combined with elegant forms in the figures and landscape. The story being told in this scene regards the daughter of the king of Crete, Ariadne, who was abandoned by her first lover, Theseus, on the island of Naxos. Theseus's ship can be seen leaving in the distant waters behind them. At their first encounter, Ariadne fears Bacchus, the God of Wine, but soon becomes enchanted by him. Directly above her head, we see a ring of stars - Bacchus would eventually transform her into the constellation, Corona Borealis. Bacchus, who fell in love with her at first sight, leaps from his chariot pulled by two cheetahs to get to her; his entourage following closely behind him. After researching many texts before beginning his work, including classical writers Catullus and Ovid, and after selecting the strongest pigments available, Titian portrayed a classical epic tale in a masterful painting.
As part of a famous series created by Bellini, Titian, and Dosso Dossi, 'Bacchus and Ariadne' was actually a substitute project that the Duke of Ferrara, the series' commissioner, had originally requested from Raphael.
Review
"Throughout the paintings he (Titian) did in his 20's and 30's that open the exhibition, there is a justness, timing and feeling for pictorial relationships that cannot be taught. Titian seems to have been born knowing how to fix a head, knee or arm in space. Wherever he painted something, it belongs. Whatever he painted finds its place. But along with the sense of destiny in these paintings, there is also free will." – Michael Brenson (New York Times Art Critic)
'Bacchus and Ariadne' by Titian is currently located at the National Gallery, London, England.
Home | Art Prints | Art Movements | Famous Artists | Articles