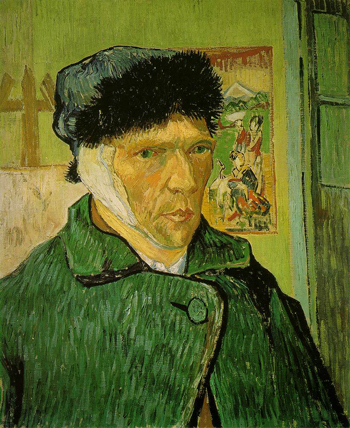 | | |
| --- | --- |
| Artist: | Vincent Van Gogh |
| Created: | 1889 |
| Dimensions (cm): | 49.0 x 60.0 |
| Format: | Oil on canvas |
| Location: | Courtauld Institute Galleries, London, England |
Self-Portrait with Bandaged Ear
Much of Van Gogh's work is emotionally charged. Whether painting landscapes, still-life or portraits, the intense feeling of the artist emanate from the canvas. More than any of his other works, Van Gogh's self-portraits clearly convey the state of mind of the artist and allow the viewer a glimpse into his soul. In Self-Portrait with Bandaged Ear, we see a haggard and sad figure struggling with internal demons.
After an argument with his friend, the artist Paul Gauguin, Van Gogh cut off a piece of his ear and reportedly delivered it to a prostitute. Immediately after he returned from the hospital with his ear bandaged, he began to paint. This self-portrait is a result of this creative period.
In the portrait, links between Japanese and Western European art can be seen. The outlines of Van Gogh's features, clothing and of the surrounding environment are sharp and strongly marked, as is characteristic of Japanese artistic styles. Also, the flattened perspective of the work is inspired by Japanese art. The Japanese print which hangs on the wall behind the artist clearly identifies Van Gogh's kinship with and interest in this artistic style.
In painting his own image, Van Gogh sets forth his own mental state with extreme intimacy. The man presented in this self-portrait appears pale and worn out. He does not hide his own vulnerability but allows the viewer to experience his tragic instability. His struggle with the mental illness that plagued him throughout his life and that led him to the self-harm we see in this portrait is evident in this work.
Home | Art Prints | Art Movements | Famous Artists | Articles