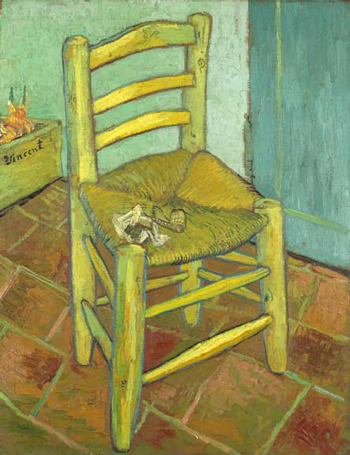 | | |
| --- | --- |
| Artist: | Vincent Van Gogh |
| Created: | 1888 |
| Dimensions (cm): | 73.0 x 91.8 |
| Format: | Oil on canvas |
| Location: | National Gallery, London, England |
Like Van Gogh's Bedroom, this painting gives the viewer insight into the artist himself by allowing a glimpse at Van Gogh's own belongings.
Van Gogh's Chair is part of a pair with Gauguin's Chair, also painted by Van Gogh. The different chairs presented in the two paintings symbolize the people to whom they belong. Gauguin's Chair is painted with Van Gogh's common 'night' coloring of reds and greens. A candle and two books rest on the chair as if left there by the chair's occupant. Van Gogh's Chair, in opposition to Gauguin's, is painted with daytime coloring and evokes a very different mood.
The chair presented in this painting is simple and rustic. It stands on the tiles of Van Gogh's studio floor. The pipe and tobacco which rest on the seat give us a clue as to the life of the artist who occupies the chair. The simplicity of the chair, pipe and tobacco is countered by the underlying complicated criss-cross of the lines of the chair legs and rungs and tiles of the floor.
In this work, Van Gogh wanted to create the effect of daylight by using clear colors. The rich yellow of the chair, the white-ish blue wall, and the blue-green door do conjure a feeling of daylight, which is heightened by the contrast with the red and brown tones of the floor.
This painting, along with Gauguin's Chair, can be seen as a type of monumental still life. It focuses on an inanimate object in a specific light and does not include a human figure. Van Gogh's Chair, however, has an emotional power which surpasses most still life paintings; this work strongly evokes the image of Van Gogh without including any direct likeness of the artist.
Home | Art Prints | Art Movements | Famous Artists | Articles