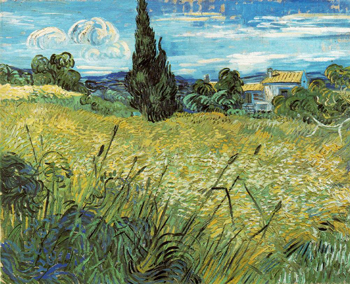 | | |
| --- | --- |
| Artist: | Vincent Van Gogh |
| Created: | 1889 |
| Dimensions (cm): | 92.5 x 73.5 |
| Format: | Oil on canvas |
| Location: | Narodni Galerie, Prague, Czech Republic |
This image evokes an early summer day, with its lightness of color and airy mood. It is a lovely landscape in which Van Gogh makes use of color and particular brush techniques to create a peaceful, breezy scene.
The landscape is divided into three separate bands: the sky, the wheat and the foreground. Van Gogh changes his brush-stroke for each different object represented in the work. There is therefore a distinct difference between the flecks of the sky and the touches in the wheat and poppies of the field. Each band has its own shape, direction and color.
The unifying force of the work comes from Van Gogh's evoking the wind. The clouds and the wheat are blown in the same direction as the flying bird. The wind is not turbulent and does not create a stormy mood. Rather, the airiness of the work is furthered by the representation of the light summer breeze.
Like the subject, the coloring of Wheat Field is impressionist. There are different tones of blue, lighter and darker, in the sky. The wheat moves from cool to warm in its passages from yellow-green to blue-green. The red, blue and white flowers of the field highlight the work. A warm, bright yellow tone prevails in the foreground, existing in contrast to but in harmony with the blue sky.
In Wheat Field, Van Gogh uses his considerable talents to portray an atmosphere of summer calm which is highly pleasing to the viewer.
Home | Art Prints | Art Movements | Famous Artists | Articles