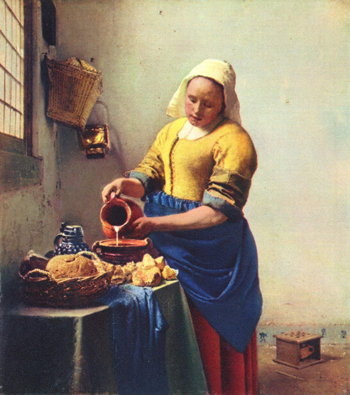 | | |
| --- | --- |
| Artist: | Jan Vermeer |
| Created: | 1658-60 |
| Dimensions (cm): | 41.0 x 45.5 |
| Format: | Oil on canvas |
| Location: | Rijksmuseum, Amsterdam, Netherlands |
The Milkmaid
One of Jan Vermeer's most appreciated works is entitled 'The Milkmaid', an oil painting on canvas that is characterized by its unique composition. Vermeer added a new style to the subject of kitchen pieces, a theme that was losing its appeal in the 17th Century. The painting features a servant woman who is concentrated on preparing a meal for her master. The unique aspect of this kitchen scene is due to its presentation of an active servant who is surrounded by a variety of still life. The objects on the table such as breads, rolls, and cloth are symbolic of domestic simplicity. Vermeer's meticulous pointillism technique indicates the possible use of a telescope in his effort to contrast the still life with the busy maid. The white, yellow and blue hues of her dress are faded to add the effect of well-worn clothing. The light that falls on the room from the window illuminates the bare kitchen wall and strikingly silhouettes the maid against it, causing shadows to her face.
Many 19th Century artists, including Vincent Van Gogh, were remarkably impressed with 'The Milkmaid's' realism, intense textures, and the thickness of the oil paints. In 1888, Van Gogh wrote to Emile Bernard, "It is true that in the few pictures he (Jan Vermeer) painted, one can find the entire scale of colors; but the use of lemon yellow, pale blue and light grey together is as characteristic of him as the harmony of black, white, grey and pink is of Velázquez."
Review
"Time and again, one returns to Vermeer with a distinct sense of the incomparable. Paintings such as The Milkmaid of 1617, the Girl with a Red Hat of the mid-1660s or the Girl with a Pearl Earring have been written about prodigally by historians of art, by critics, by men and women spellbound. They continue to defy paraphrase of any kind, even in Proust. They suggest privacies, domesticities of the human soul seemingly inaccessible to others." - George Steiner (The Observer)
'The Milkmaid' by Jan Vermeer is currently located at the Rijksmuseum, Amsterdam, Netherlands.
Home | Art Prints | Art Movements | Famous Artists | Articles