Wall Murals: The New Craze in Wall Decorating
Wall murals date back to prehistoric times when they were simple drawings found in caves. They were typically pictures of various animals such as horses, stags and cattle. They were even made for the authorities on request to get their political messages across to the lower classes. Nowadays, wall murals are considered to be the new way to spruce up any room in the house and give it its own unique atmosphere.
Options for your home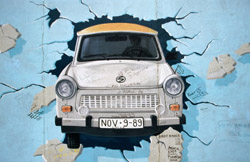 Murals are typically large scenes, images or paintings that are transferred to a wall, ceiling or any other flat surface. They should not be applied to any rough surfaces. There are also many different styles and techniques involved in the construction of a mural. The most widely known being the fresco, which is usually associated with the paintings of the Renaissance. Frescoes involve painting on a moist, plaster surface with watercolors or a limewater mixture. Today, most handcrafted murals are made by use of oil or water based media. Finding a professional artist to paint his or her own unique art piece and put it on your wall may sound like a good idea but it can be very expensive. It is possible to paint handcrafted designs yourself and put them up but there are other options. It is also possible to find a company on the Internet that specializes in printing wall murals using today's technology. It is much cheaper to use this method, as these companies will not have to hand craft the image. See this site for more information on how to obtain your own custom wall mural. There is also the tile mural, which is an arrangement of small tiles that come together to form one big mural. These tiles murals are considered to be the ideal candidates for kitchen backsplashes, floor medallions, and bathtub enclosures because they can protect the home against water damage, spills, drips and splatters.
Hanging your mural
To hang up any mural, assistance may be required if you are not comfortable taking the risk yourself. You can contact the store where you purchased the mural or contact the local handyman for any support needed. There are a relatively small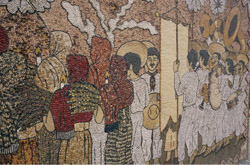 number of tools and accessories required. There are a number of professionals that will install murals. Most murals are permanent when they are hung so it is important not only to hang it up correctly, but also to choose the correct design.
Location
There are almost an infinite number of possible designs to choose from so there is a design to meet everyone's dreams and needs. Before the design is chosen, it is important to decide on a location for the mural. Any smooth surface of any room of the house is possible, depending on the size of the wall. The most popular locations for murals tend to be kitchens, bathrooms, wine cellars, spas and cabanas. Children's rooms can also be vastly enhanced with a mural of their favorite animal, cartoon character or sport. Anywhere in the house where relaxation or recreation takes place is normally considered the ideal position for a wall mural.
Finishes and maintenance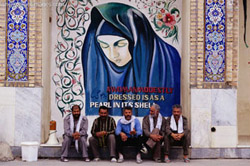 Once the mural is in place, the only thing left to do is add the finishing touch which will maintain it in good condition. There are numerous ways to add the finishing touch to a wall mural. Gloss and satin finishes will really bring out the contemporary feel of the mural and keep it looking new or a Matte finish will provide you a finish that is not shiny and less reflective. To keep the mural in good condition, it might also be necessary to clean it once and a while. The use of a non-abrasive cleaning substance along with a soft sponge or cloth is best as harsh cleaning agents could damage the mural.
Wall murals are definitely the new trend in interior design and having one in any room in the house can make being in it that much more enjoyable. By adding a mural to a room, it adds a lot of personality and is more pleasing than looking at 20-year-old wallpaper or an awkward shade of green paint. With a mural in your home you will be the envy of all your friends and family.
---
Donovan Gauvreau
Art Historian, Donovan Gauvreau lectures about art therapy with a focus on creativity development. He believes we can learn from the great masters in art to communicate ideas and feelings through painting. He provides content for www.AaronArtPrints.org to educate and inspire people to take a glimpse into an artist's life to better understand the meaning behind their work.
Home | Art Prints | Art Movements | Famous Artists | Articles