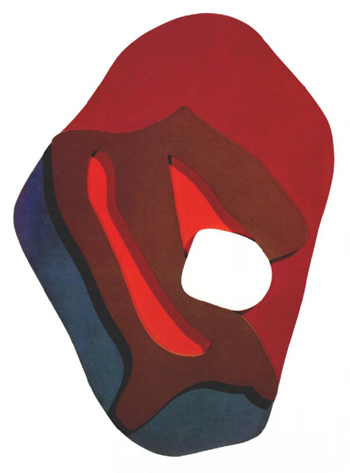 | | |
| --- | --- |
| Artist: | Jean Arp |
| Created: | 1917 |
| Dimensions (cm): | 58.5 x 86.2 |
| Format: | Painted wood |
| Location: | Museum of Modern Art, New York, USA |
Enak's Tears
Jean Arp (sometimes referred to as Hans Arp) created 'Enak's Tears' in 1917 using paint on wood. Although the art piece is also widely known as "Terrestrial Forms", this title does not bring to life the poetic denotation that Arp seems to have wanted to imply when he named his work 'Enak's Tears'. Nonetheless, it is understandable that the piece bears the pseudo name "Terrestrial Forms" due to its otherworldly curves and contours that resemble an extra-terrestrial being. The artist's depiction of a richly colored amoeba-like shape with deep hues of dark red, brown, orange and blue stirs up a sense of curious sensuality combined with a mysterious aura that peaks the interest of all who view it.
Though classified as a sculpture by the Museum of Modern Art, 'Enak's Tears' clearly harbors a classical painter's touch, evoking emotion and intrigue. The piece is a monumental work for Jean Arp as he was one of the first to make use of biomorphic forms. The work was recognized as a new art theory in counter-Cubist form language, a style that inspired many artists and helped develop a historic genre for the future.
Analysis
"In the face of Analytic Cubism's searching but ultimately assured equilibrium and stasis, Arp's reliefs unwind in an improvisational, meandering manner that implies growth and change. Here is no longer the sober, classical scaffolding of the external world of architecture. The forms of the Portrait of Tzara and Enak's Tears, while describing nothing specifically, multiply associations to physiological and botanical processes, to sexuality, and through their very ambiguity, to humor." – Publication excerpt from William S. Rubin (Dada, Surrealism, and Their Heritage), New York: The Museum of Modern Art, 1968, pp. 39–41
'Enak's Tears' by Jean Arp is currently located at the Museum of Modern Art in New York, U.S.A.

Home | Art Prints | Art Movements | Famous Artists | Articles