Art Deco Designs Set for a Bold Comeback
Art Deco designs permeated nearly everything in the 20's and 30's. Their purpose was solely decorative. They were included in architecture, jewellery, pottery, silverware, and furniture, and were instantly adopted by movie makers. Considering the film industry's powerful influence on the public, movies may have been where art deco had the greatest pull. People typically associated the art deco style with the high contrast lighting used in the production of 'film noir'. Over time, the two art forms became almost synonymous.
The art deco style is a mixture of several movements: Modernism, Art Nouveau, Futurism, Constructivism, Cubism and Neoclassical. It is a combination of color and shape - eye-catching geometry offset by swirls and curves.
Is Art Deco Ancient History?
Some say that the art deco movement began at the international exposition of modern industrial and decorative arts show in Paris in 1925, while others believe that it was already happening around 1910. Of even greater interest is that a number of art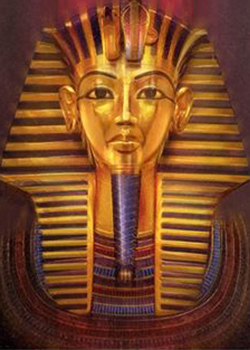 historians argue that King Tutan Khamun's tomb displays art deco designs. King Tut was truly ahead of his time.
Art Deco and Interior Design
As the popularity of art deco designs grew, architects began to incorporate them into their work. We can appreciate the strong influence of this style in structures such as the Golden Gate Bridge. With train stations, skyscrapers and building facades demonstrating art deco designs, it was only a matter of time before art deco made its way into the interior of homes.
Art Deco interior decorating was a combination of polished wood, colorful glass and lustrous plastic. The goal was to create a sleek, glamorous effect. People who had suffered hard years of deprivation during the great depression were looking to indulge themselves in an atmosphere of dazzling luxury. Bold colors in a room were meant to produce a high contrast with the surroundings. Metallic paint was often used to add a shiny finish to one of the walls, and sometimes a different color was chosen for each wall, with the ceilings painted black.
Art Deco carried many motifs in the form of erotic nudes, artistic representations of animals, and imaginative interpretations of cars, cruise liners and skyscrapers. Photo-realism was not the idea of the day.
Art Deco Portraiture
The art deco era produced influential portraiture by avant-garde artists such as Tamara De Lempicka, www.aaronartprints.org/delempicka-tamara.php, who became famous for her unique style. Tamara's piece "Portrait of a Young Girl in a Green Dress" shows high color contrast. The young woman wearing white gloves holds onto the black brim of her hat, which covers wisps of blond hair. She has bright red lips. Sharpness was created with the use of black lines delineating shape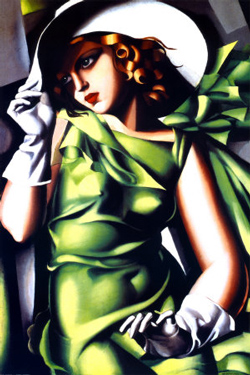 and color.
Edward Lucie-Smith, art critic and historian, expressed his view on art deco portraiture with this comment: "It can be argued that the Art Deco spirit expressed itself more naturally through portraiture than through any other kind of painting. The quintessential Art Deco portraitist is undoubtedly Tamara de Lempicka. Fashionable society of the 1920s and 30s is now perceived very largely through her eyes"
According to many, Paris was the core of Art Deco due to the artistic creations of Jacques-Emile Ruhlmann, Jean-Jacques Rateau, Edgar Brandt, Jean Dunand, René Lalique, Maurice Marinot, and Cartier.
Today's Art Deco House
An Art Deco style home has tall and thin windows. Shiny, ornamental pieces of colored glass, chrome, ivory and jade are plentiful in the living room. A print of one of Lempicka's art deco portraits in the hallway would add a nostalgic touch. Lighting, produced by decorative table lamps featuring art deco designs of animals or female figures, is typically attractive. Kitchens and bathrooms have highly-polished black and white checkerboard patterns or abstract tile designs. The carpets are bold in colour and show a geometric pattern. Dressers and wardrobes are simple in shape and of pale veneer wood in order to offset the vibrant colors of the bedroom's walls. As a whole, an art deco style home produces an atmosphere of affluence and undeniable nostalgia.
Art Deco Furniture
One of the leading names in art deco furniture is Eileen Gray, a pioneer in the field of innovative home furnishings. Her most famous pieces include the Pirouge daybed, a boat-shaped fantasy bed, the Blocs screen with panels that swivel, and the Bidendum, a contoured leather chair on metal tubular legs. These opulent pieces have lots of curves and display prominent color against a shiny structure.
Are art deco designs here to stay? Their strong comeback in stores and their obvious popularity among many homeowners are promising signs of permanence.

---
Donovan Gauvreau
Art Historian, Donovan Gauvreau lectures about art therapy with a focus on creativity development. He believes we can learn from the great masters in art to communicate ideas and feelings through painting. He provides content for www.AaronArtPrints.org to educate and inspire people to take a glimpse into an artist's life to better understand the meaning behind their work.
Home | Art Prints | Art Movements | Famous Artists | Articles