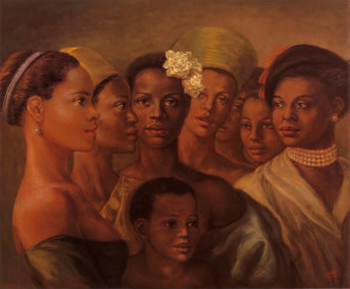 | | |
| --- | --- |
| Artist: | Tim Ashkar |
| Created: | 1992 |
| Format: | Oil on canvas |
| Location: | Private collection |
The Beauty of Color
"Through my art, I try to portray the beauty and humanity that all people share." – Tim Ashkar
Artist Tim Ashkar created 'The Beauty of Color' in 1992. This spectacular oil painting on canvas is an emotional collage of African American women of all ages, and perhaps even of all eras as their clothing suggests. They may possibly be related to one another - mothers, daughters, sisters, aunts, etc.
Ashkar chose hues of various browns, whites and blacks, giving an antique/aged effect to the entirety of the painting. The eight women stand very close together, bonded by their inner strength and fortitude against the trials of a turbulent history, and hopeful in the face of the future. They exude a sense of independence and a look of nobility. The painting is captivating; its strongest attribute is realized in its reflection of intelligence and beauty, inside and out. 'The Beauty of Color' is quite possibly the most meaningful piece that Tim Ashkar has so far created.
Quote by the Artist
This quote provides a clear insight into Tim Ashkar's character as well as his goal as an artist: "An interesting aspect of being an artist is that you really do not hit your stride till later in life. Another wonderful aspect is that my job is to analyze beauty, not the Hollywood version, but the beauty that comes from within (and pleasing proportions). When I create a new painting, I ask myself "what would be a positive influence on society." I tell my models "No make up, I want to see your natural beauty". I also incorporate a minimum amount of jewellery in a painting so as to not promote materialism. Beauty transcends all classes and cultures. A successful piece of art will always captivate, always presenting something fresh. Its beauty increases with time, not diminishes." – Tim Ashkar (Ashkar Studios)
'The Beauty of Color' by Tim Ashkar is currently owned in a private collection.

Home | Art Prints | Art Movements | Famous Artists | Articles