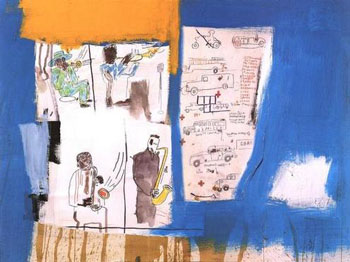 | | |
| --- | --- |
| Artist: | Jean-Michel Basquiat |
| Created: | 1986 |
| Dimensions (cm): | 100.0 x 75.0 |
| Format: | Acrylic and oil paintstick on canvas |
| Location: | Marcel Sitcoske Gallery, San Francisco, USA |
'Worthy Constituents' was part of the graffiti movement, a genre of art that best describes the unique brand of graffiti art created by Jean-Michel Basquiat. Painted in St. Moritz, this jazz piece with its vivid images set against bright blue tones was an expression of control of gesture, color and composition. Basic figures and intricate symbology were fused together in compositions that work visually.
African American painter Jean-Michel Basquiat was part of the Neo-Expressionist movement whose quality was controversial. This post-modern return to figurative painting concerned itself with the display of intense, spontaneous emotion, and the aggressive raw handling of materials.
Jean-Michel Basquiat streaked the canvas with coffee before painting over most of it. Inspired by his love for Jazz, he paid tribute to the great Charlie Parker and Dizzy Gillespie in his creation of 'Worthy Constituents'. The painting earned its name from a feud between Parker and Gillespie; Parker announced 'Salt Peanuts' (musical track) as being written by Gillespie, his worthy constituent. In the song, both musicians blew as fast and as intricately as they could, an effort that was reflected in the intensity of the painting.
According to Henry Geldzahler, curator of twentieth-century art at the Metropolitan Museum of Art, "His work (Basquiat's) from the first consisted of conceptual, enigmatic combinations of words and symbols, executed with the curt simplicity of a late Roman inscription".
While some people were critical of "Graffiti art", Mark Ecko, designer of urban clothing, was a major advocate of this art form, stating that "Graffiti is without question the most powerful art movement in recent history."
Art critic Robert Farris Thompson regards the artist's blend of courage and self-transformation, his non-conforming, gutsy approach to art as what identifies him as a major artist. He refers to Jean-Michel Basquiat as someone possessing "that courage, not being afraid to fail". In Thompson's article 'Royalty, Heroism, and the Streets: The Art of Jean-Michel Basquiat', he refers to the blend of cultural and musical forces that influenced works such as 'Worthy Constituents', as well as other pieces by the artist that demanded the world's attention. He wrote "Jean-Michel blended and confronted what was traditional and best in his cultural experience, like jazz and blues and opera, with what was exciting in terms of the popular technologies seething all around him".
'Worthy Constituents' currently resides at the Marcel Sitcoske Gallery, 20 Hawthorne Street, San Francisco, CA 94105 U.S.A
Home | Art Prints | Art Movements | Famous Artists | Articles