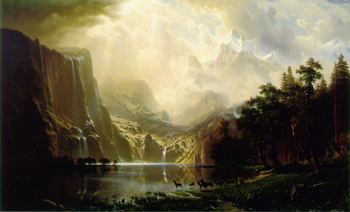 | | |
| --- | --- |
| Artist: | Albert Bierstadt |
| Created: | 1868 |
| Dimensions (cm): | 305.0 x 183.0 |
| Format: | Oil on canvas |
| Location: | Smithsonian American Art Museum, Washington, USA |
Among the Sierra Nevada Mountains, California
Albert Bierstadt was an artist known for his beautiful, and often, imaginative paintings of America's landscapes. In 1868, he created 'Among the Sierra Nevada Mountains, California' – which was first shown in Europe before being shipped to the United States.
The painting, with all of its romanticism, is typical of Bierstadt, who so often performed to his audience with an exaggerated, yet idealized view of Western America. Lush waterfalls flow into a small lake, barely displaying any movement from the current; allowing for the reflection of the surrounding scenery upon it. The lighting is almost certainly the essential element that provokes the feeling of peacefulness, which is generally conjured from this painting. Sun rays bursting through an intensely clouded sky illuminate the visionary perfection of the mountains and lake.
'Among the Sierra Nevada Mountains, California', complete with its lustrous foliage and epic skyline amidst a majestic mountain range, was one of many of his works that helped to strengthen the idea that America was the "Promised Land", during the time when many hopeful Europeans were immigrating to the country in search of a better life.
About the Artist
Born in Germany in 1830, Albert Bierstadt moved with his family to New Bedford, Massachusetts in 1831. An artist from an early age, creating clever crayon sketches in his youth, he then changed to oil paints by the age of 21. By 1853, Bierstadt moved back to Germany to continue studying art in Dusseldorf with other members of an informal school. Again, returning to New Bedford in 1857 and after teaching drawing and painting for a short time, he finally dedicated himself to painting full time. Many of Bierstadt's works were met with positive reception, but in the later years provoked much controversy over his imaginative and romanticized portrayals of his landscapes. The negative response was lulled when John K. Howat, editor of American Paradise: The World of the Hudson River School once stated: "The temptation (to criticize him) should be steadfastly resisted. Bierstadt's theatrical art, fervent sociability, international outlook, and unquenchable personal energy reflected the epic expansion in every facet of western civilization during the second half of the nineteenth century."
Albert Bierstadt completed over 500 paintings during his career, but many were destroyed when a fire broke out in his studio in 1882.
'Among the Sierra Nevada Mountains, California' is currently located at the Smithsonian American Art Museum, in Washington, USA.

Home | Art Prints | Art Movements | Famous Artists | Articles