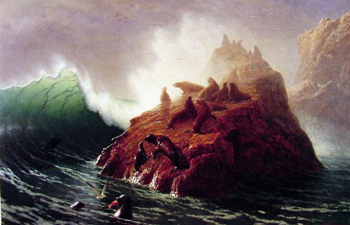 | | |
| --- | --- |
| Artist: | Albert Bierstadt |
| Created: | 1872 |
| Dimensions (cm): | 144.0 x 105.0 |
| Format: | Oil on canvas |
| Location: | New Britain Museum of American Art, Connecticut, USA |
Seal Rock
During an extended stay in California between 1871 and 1872, Albert Bierstadt frequently explored Yosemite National Park and the Sierra Nevada, and he also toured along the Pacific Coast. In the Farallons, a cluster of rocky and isolated islands in the Pacific Ocean is where he was inspired to create 'Seal Rock'.
Twenty six miles to the west of San Francisco, the Farallons are known for their oddly shaped rock formations and strong windswept landmasses that are abundant with seals and water birds. Rarely visited by the public, the Farallons are a riveting source of creative inspiration for artists of many genres.
'Seal Rock' reflects Bierstadt's skill in working with light, shadow, and contrasts. The painting also well-demonstrates his notorious talent for embellishment. The forceful crashing wave, with its translucent green crest and white caps, rises up at the left of the red rock face, evoking feelings of power and hostility. One can ultimately feel the resulting white spray displayed in the background. Yet, this intimidating oceanic movement does not deter the seals and birds from frolicking upon the large rock, in defiance of potential danger. The playfulness becomes even more apparent with the seal near the foreground, a small fish in his mouth, enjoying the catch of the day. Bierstadt's intent to create a strong distinction between a light-hearted atmosphere and a precarious one is unmistakable. The contrast between the bright, white mist above and the ominous dark wave below intensifies the sensation.
About the Artist
Albert Bierstadt, a German-born American painter, is well-known for his scenic paintings of the American West. He was a member of the Hudson River School, but his work also shows the influence and skill acquired from the Dusseldorf School of Painting in Germany.
An avid traveller, Bierstadt arrived at the Farallons on April 29th, 1872. He created 'Seal Rock' as well as a series of other paintings of the islands, some of which are very similar in composition; almost all of them echo the image of the seal with the fish in its mouth. Bierstadt completed over 500 paintings during his career, and possibly produced as many as 4000, but an abundance of his work was destroyed when a fire broke out in his studio in 1882.
Albert Bierstadt passed away in 1902 and his paintings were largely forgotten until the 1960's when they began to gain popularity, most likely due to the renewed interest in the conservation of the American landscape. Mount Bierstadt in Colorado is named in his honor.
'Seal Rock' is currently located at the New Britain Museum of American Art, in Connecticut, USA.

Home | Art Prints | Art Movements | Famous Artists | Articles