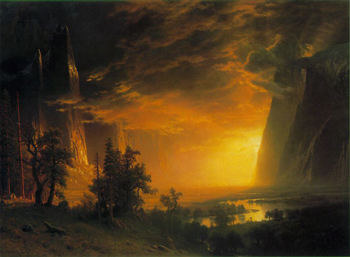 | | |
| --- | --- |
| Artist: | Albert Bierstadt |
| Created: | 1868 |
| Dimensions (cm): | 131.0 x 90.0 |
| Format: | Oil on canvas |
| Location: | The Haggin Museum, Stockton, USA |
Sunset in the Yosemite Valley
While Albert Bierstadt was renowned for his skill in working with light, shadow, and contrasts, he was also famous for his talent in embellishment. The painting, "Sunset in the Yosemite Valley' is a perfect example of Bierstadt's extraordinary, yet often times, controversial techniques. The bright oranges and dazzling yellows that he uses to depict the sunset in the national park render the scene almost unnatural, rather surreal.
The landscape is presided over by immense low clouds that are drifting over from the famed "El Capitan" mountain peak. The darkness of the mountain tops gradually lessens toward the base near the valley, creating a powerful sense of the hot sun's decent. At the center of the canvas, Bierstadt paints a light so blinding that it is eerie and unfamiliar, bringing to mind 'the light at the end of the tunnel'. Conceivably, the glorious scene pays a religious tribute to the earth's natural beauty, its peacefulness a holy temple.
Despite its magnificence, some critics felt the painting lacked certain qualities and/or was overbearing. Mark Twain stated that, "Some of Mr. Bierstadt's mountains swim on a lustrous pearly mist, which is so enchantingly beautiful that I am sorry the Creator hadn't made it instead of him so that it would always remain there….We do not want this glorified atmosphere smuggled into a portrait of Yosemite, where it surely does not belong."
About the Artist
Albert Bierstadt, a German-born American painter, is well-known for his scenic paintings of the American West. He was a member of the Hudson River School, but his work also shows the influence and skill acquired from the Dusseldorf School of Painting in Germany.
During Bierstadt's frequent travels through the American western regions, he created some of his most elaborate and celebrated works, one of which is 'Sunset in the Yosemite Valley". Bierstadt completed over 500 paintings during his career, and possibly produced as many as 4000, but an abundance of his work was destroyed when a fire broke out in his studio in 1882.
Albert Bierstadt passed away in 1902 and his paintings were largely forgotten until the 1960's when they began to gain popularity, most likely due to the renewed interest in the conservation of the American landscape. Mount Bierstadt in Colorado is named in his honor.
'Sunset in the Yosemite Valley" is currently located at The Haggin Museum, in Stockton, USA.

Home | Art Prints | Art Movements | Famous Artists | Articles