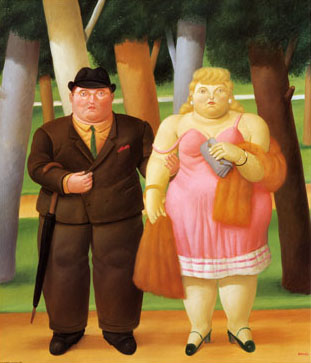 | | |
| --- | --- |
| Artist: | Fernando Botero |
| Created: | 1995 |
| Dimensions (cm): | 96.0 x 117.0 |
| Format: | Oil on canvas |
| Location: | Private collection, Columbia |
A Couple
'A Couple', featuring the trademark of smooth inflated shapes made popular by Fernando Botero, reflects the artist's desire to draw people's attention to volume and reality. In this situational portrait, the artist makes his subjects the focus by compressing the space around them. The artist's vision is best described in his quote, "What I do is a personal and intimate manifestation, that comes from my past, what I love, and what I have lived… I see it as a manifestation of my spirit."
Columbian Artist Fernando Botero combines late twentieth century Renaissance and Baroque painting techniques accentuated with a Latin flair to create 'A Couple'. Brilliant colors draw the viewer's eye to the rotund figures in the painting, a trait the artist is well known for. His expanded use of form conveys his love of mass and excess.
In the publication "Botero's Baroque: The Baroque World of Fernando Botero", author John Sillevis explains how in works such as 'A Couple', the artist "depicts the comedy of human life – moving or wry, baroque in expression, sometimes with a mocking observation, sometimes with a deep, elementary emotion."
Elda Silva, staff writer for Express-News, reveals the secret to Fernando Botero's popularity, which is that "his art is overt." She quoted the artist in a statement he made regarding the blows of criticism he has had to deal with concerning his portrayal of expansive forms: "Volume has been an important element in art history…..now of course the critics say if there is volume it is not painting, but sculptural painting," he says, "that means that Giotto, or Michelangelo, or Raphael, or Piero della Francesca were not painters, because the idea of volume was present very clearly until the impressionist painters."
In 1996, the artist showcased 'A Couple' along with other oil paintings at a show organised by the Marlborough Gallery of New York. In 2000, Fernando Botero made a donation of artwork valued at $200 million to two museums in Columbia (Museum of Antioquia, Banco de la Republica). It was a massive contribution consisting of 90 pieces from his private collection, including 14 impressionist paintings from artists such as Dali, Miro, Chagall, Ernst, de Kooing, Klimt, Rauschenberg, Giacometti, and Calder. 'A Couple' is currently part of a Private Collection in Colombia.
Home | Art Prints | Art Movements | Famous Artists | Articles