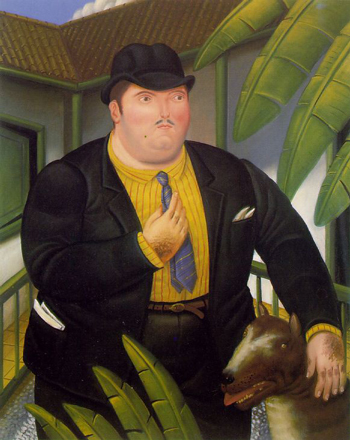 | | |
| --- | --- |
| Artist: | Fernando Botero |
| Created: | 1989 |
| Dimensions (cm): | 129.5 x 104.1 |
| Format: | Oil on canvas |
| Location: | Museo Botero, Bogota, Columbia |
Man with Dog
'Man with Dog', or as it is known in Spanish "Hombre con perro", was created by artist Fernando Botero in 1989. Botero, well known for depicting round, full bodied characters in his paintings, stayed true to his style in this tribute to man's best friend.
The subject, a stout man donned in a black suit and pin-striped yellow shirt, takes up a sizeable portion of the painting. He stands proud in the foreground of what could be the courtyard of his colonial house, a typical-looking Columbian abode. The colors of his shirt and tie, together with the flush redness in his face could be interpreted as a symbol of the Columbian national flag. Green fronds engage the left and bottom sides of the frame, adding an element of lush, tropical nature to the painting.
The man's attire is impeccable – including the hat. His right hand reaches up to straighten his tie while his left hand is placed on the back of the dog's head. This gesture brings distinction to 'Man with Dog'; it evokes a sense of proprietorship and perhaps pride in the man's heritage. The dog, although appearing somewhat unfriendly, offers an impression of loyalty to his master. The whole presents a picture of affluence.
About the Artist
Fernando Botero, best known as a "figurative" artist, is notable for illustrating exceptional characters of both genders, as well as events. His subjects are usually colorful and exaggerated in size, though Botero once claimed that he has never painted an overweight person; he further explained that the large figures in his art works are a mere glorification of sensuality and life. Many of his paintings, including 'Man with Dog', evoke ingenuity, humor, irony, and at times controversy. His style of artistry has become known to many as "Boterismo".
Self-titled "the most Colombian of Colombian artists", Fernando Botero achieved national prominence by winning first prize at the Salón de Artistas Colombianos in 1958, which launched his career.
'Man with Dog' is currently located at the Museo Botero in Bogota, Columbia.

Home | Art Prints | Art Movements | Famous Artists | Articles