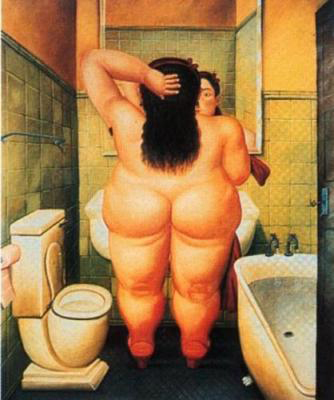 | | |
| --- | --- |
| Artist: | Fernando Botero |
| Created: | 1993 |
| Dimensions (cm): | 125.0 x 197.0 |
| Format: | Oil on canvas |
| Location: | Private Collection |
The Bathroom (also referred to as The Bath)
Perhaps one of Fernando Botero's most recognized piece is 'The Bathroom', painted in 1989. Botero remains consistent with his famed style of overly proportioned figures in most of his art work.
The scene is a blatant confrontation of modesty abandoned. A plump and fleshy woman stands in the bathroom, boldly nude, facing her mirror, one sizeable arm raised to touch her long black hair. Her wide backside is exposed to the viewer. Botero skilfully emphasizes opposites with the soft suppleness of the woman's body against the cold, hard features of the room's elements. The contrast is especially effective in creating awareness. The gentle brushstrokes on the subject's flawless skin suggest a particular fondness possibly held by the artist for the female gender. The ribbon in her lustrous hair and the classy high heels on her feet assist in amplifying her femininity.
As the lady looks at herself in the mirror, her expressionless face cleverly leads the viewer to wonder if she is feeling vulnerable and self-conscious in her nudity, or if she is exuding sexual confidence in her state of undress.
About the Artist
Self-titled the most Colombian of Colombian artists", Fernando Botero achieved national prominence by winning first prize at the Salón de Artistas Colombianos in 1958, which launched his career to world fame. He recently celebrated his 80th birthday.
Botero is best known as a "figurative" artist, though he is a talented sculptor and painter of still life as well. His unique works depicting men and women of colorful and exaggerated sizes are perhaps his most celebrated attributes as a painter; however Botero once claimed that he has never once painted an overweight person. He maintains that the large figures within his art works, including the woman in 'The Bathroom', are a mere glorification of sensuality and life. Many of his paintings evoke ingenuity, humor, irony, and sometimes much controversy. His style of artistry has become known to many as "Boterismo".
'The Bathroom' or 'The Bath' by Fernando Botero is located in a private collection.

Home | Art Prints | Art Movements | Famous Artists | Articles