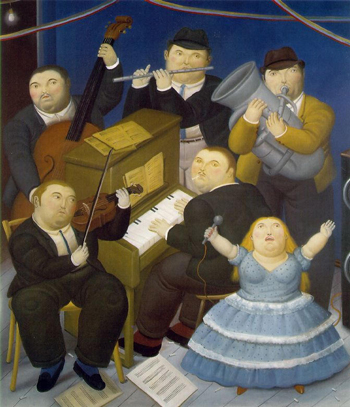 | | |
| --- | --- |
| Artist: | Fernando Botero |
| Created: | 1991 |
| Dimensions (cm): | 172.0 x 200.0 |
| Format: | Oil on canvas |
The Musicians
"An artist is attracted to certain kinds of form without knowing why. You adopt a position intuitively; only later do you attempt to rationalize or even justify it." – Fernando Botero
Columbian artist Fernando Botero is most famed for his oversized, sometimes impossibly proportioned figures portrayed in his art works. The scene in 'The Musicians' is no exception as it depicts a musical band in mid-play, with five portly men, each on a different instrument, and one plump female singer with arms raised in enthusiastic performance.
The full-bodied figures in this painting offer the viewer a unique insight into how Botero most likely feels about music: abundant in joy and bursting with passion. Two pages of sheet music have fallen to the floor but the musicians, so engrossed in their performance, pay them no notice. Interestingly, the female singer appears relatively smaller in size than her fellow band players. Perhaps Botero meant for the audience to not only focus on the "star" of the show, but also give attention to the talented instrumentalists that drive her captivating voice.
Although all the characters are formally attired, the crowded proximity of the performers, together with the music sheets on the floor, gives the scene a party-like atmosphere.
About the Artist
Self-titled the most Colombian of Colombian artists", Fernando Botero achieved national prominence by winning first prize at the Salón de Artistas Colombianos in 1958, which launched his successful career. Botero is a talented sculptor and painter of still life as well.
Though he has been called one of the most important "figurative" artists of the 20th century, he has also suffered some scalding put-downs. His first one-man show in New York in 1962 provoked critics to denounce his work as a collection of "caricatures" and "a monument to stupidity." Not one of his paintings was sold. (People.com)
Although his unique works depicting men and women of colorful and exaggerated sizes are perhaps his most celebrated attributes as a painter, the artist once claimed that he has never painted an overweight person, further stating, "My work is a self-portrait of my mind, a prism of my convictions. People say, 'What a discipline, painting so much.' I say, 'No, I love it.' Nothing amuses me as much as my work. To have discipline would be not to paint." (People.com)
The large figures that he depicts in his work, including those in the painting 'The Musicians', are deemed to be a mere glorification of sensuality and life, Botero's personal and unique perspective. Many of his paintings evoke ingenuity, humor, irony, and at times, much controversy. His style of artistry has become known to many as "Boterismo".

Home | Art Prints | Art Movements | Famous Artists | Articles